1940
New decade! New rules? Not exactly. A couple of familiar faces ruled the box office, and a big name came to America to win David O. Selznick another Oscar.
And The Oscar Goes To…
It's Alfred Hitchcock, everybody! Hitchcock's first film in the US was also his only film to win Best Picture, though it still couldn't get Alfred himself a Best Director trophy. Which… I don't know, given his terrible treatment of Tippi Hedren during The Birds (and probably other women), maybe it's fine he never got an Oscar. Maybe we've let too many men get away with too much because Art.
Speaking of men being shit to women, let's talk Rebecca.
So maybe you know this one. A woman meets wealthy widower Max deWinter (Laurence MF'n Olivier, delivering rapid banter like a Gilmore Girl) while on a work trip to Monte Carlo, they have a whirlwind romance, and once married return to his family home… only for her to find that her new home and husband seem haunted by the lingering memory of Max's first wife, Rebecca. That part is generally known, and is heavily present in the trailer for the recent Netflix remake starring Lily James and Armie Hammer. But folks, in the last half hour, there are enough sudden twists and turns to fill an entire movie.
Hitchcock brings a ton of atmosphere to the movie. It oozes uncomfortable ambience, pointing to where Hitchcock would go in building suspense. You understand why the new Mrs. deWinter is filled with unease in her new manor home.
In terms of what the Oscars have gone for so far, I wouldn't say this fits a trend. It's not a sweeping epic like Gone With the Wind or Cimarron or what Cavalcade wanted so badly to be, it has no thoughts on war… it's closest, I guess, to Grand Hotel.
Still good though, and the only time we get to talk about how good Hitchcock was at crafting a tense atmosphere, then blowing it up in the final act. You've never gotten such a chill from a monogrammed napkin.
And Rotten Tomatoes Says: Rebecca comes in at #11, kept just barely out of the top ten by overvaluation of movies from the most recent decade.
The Box Office Champ
The parade of Big Names continues, including two favourites.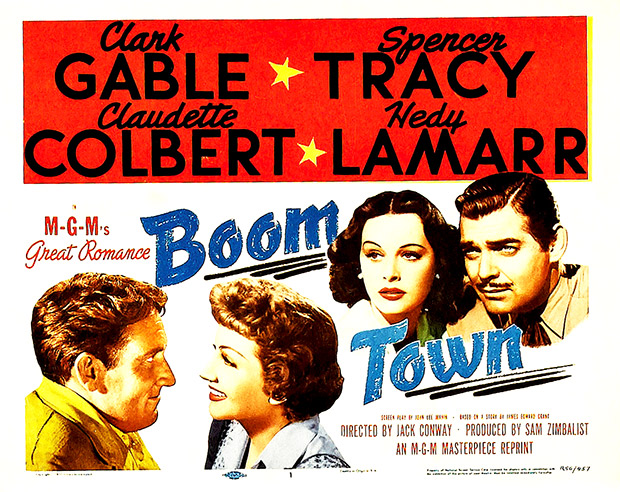 Clark Gable and Claudette Colbert, the couple that brought Oscar gold to screwball comedy, are back together! And they've brought Spencer Tracey and actress/inventor Hedy Lemarr, the lady so IRL cool the Legends of Tomorrow did an episode on needing to save her career from Helen of Troy. No time to explain but it was a banger.
Gable and Tracy play two men named John (Big John and Square John, respectively) who form a partnership to chase oil in Oklahoma. The issue is, the woman Square John loves (Colbert) comes to town and falls for the other John because he's Clark Gable and she's only human. And Square John could have accepted this, but Big John turns out to be bad at monogamy, and that drives a wedge between the two men, one that lasts for years of changing and escalating fortunes in the oil biz. They almost make up, but Big John just has to start sleeping with his right hand woman (Lamarr) like a chump, and thus their rivalry heats up even worse.
The opening scenes are fun, when the Johns Square and Big and scheming, conning, and hustling their way to their first big oil score, but when everything starts to fall apart it becomes a bit of a drag. I can see why it drew a crowd. Getting Gable and Colbert back together would have been a draw, especially with Gable fresh off Gone With the Wind, but honestly where Gable movies are concerned it's my least favourite so far.
And Rotten Tomatoes Says: Only three reviews, which are positive but not glowing.
Other Events in film
Most significantly to me, A Wild Hare introduced the world to a wisecracking, carrot-munching rabbit named Bugs Bunny.
Disney released Pinocchio and Fantasia, both of which were box office disappointments (especially after Snow White) but were redeemed by time.
Tom and Jerry debuted in Puss Gets the Boot. Warner Bros thinks that's significant to put them in a new movie next year but man I don't know, I think they're taking a loss on that one.
The Great Dictator came within $165,000 of letting me cover another Charlie Chaplin movie.
Next Page: The Oscars' Greatest Fumble?