And we continue.
8. Supergirl
Supergirl vs. Riverdale was a tougher call than I could have expected a few months back.
The shift from CBS to the CW had an impact in ways I wouldn't have expected, resulting in a different show than last season. But the important elements remained. And what ultimately pushed it above its teen soap competition is that the writers looked at Trump's America and said "Hell no." Witness ex-Wonder Woman Lynda Carter as the President and the title of their finale, "Nevertheless She Persisted."
They never settled on a primary villain, no. Lillian Luthor and Cadmus took the lead for the first act, but then in the end the villain plot shifted to "Mon-El's Mother Has a Savage Overreaction." But I'm not calling that a weakness, like I did elsewhere, because in this case? The villain doesn't define the season's arc. Supergirl's season isn't "Supergirl Vs. So-and-So." It's "Supergirl and Mon-El: a Star-Crossed Romance." Now whether the central plot of the season being Kara's challenging relationship with newcomer Mon-El is a strength or weakness depends entirely on your own perspective.
Strengths: In season one, National City's alien population was limited to Supergirl, Martian Manhunter, and the escapees of Kryptonian prison Fort Rozz. All of a sudden there's a large population of non-criminal aliens, enough that they have their own bar. Many of them are refugees, and now the DEO is as dedicated to protecting aliens as tracking them down. At a time when the ruling party of their country is trying to build border walls and ban Syrian immigrants, when Marvel Comics has turned Captain America into a full-on Nazi, Supergirl came out as proudly, vocally, passionately pro-refugee and pro-immigrant. This is what Supergirl (and Superman, DC films) should be, the hero standing firmly beside what's right, even when the mob is trying to back what's wrong.
They really spent the summer looking at the previous season and asking "What works, what doesn't, how can we simplify." Winn left CatCo to work for the DEO, centralizing all of Kara's superheroing there. Kara and James Olsen had no chemistry, so their romance came to a screeching halt, and her romance with Mon-El felt more earned.
Alex realizing her sexuality, coming out, and finding love with Maggie Sawyer wasn't just one of the best done romances on TV this year, it also did real good in the world.
While he has nothing, and I mean nothing in common with his comic book namesake, Snapper Carr worked out well. Curmudgeonly? Sure, but every time he clashed with Kara he not only had a reason, he was usually right. He opposed Kara's hiring because she had no experience. He wouldn't let her print an opinion piece as news. Later he wouldn't print her story on aliens being abducted only because she lacked verifiable sources. When he fired her, he had cause, and when she understood that and made it right, she was welcomed back. Snapper was a curmudgeon, yes, but he was a curmudgeon because he cares about responsible journalism. Snapper Carr never would have let Karen Page publish her stupid grade school essay about "what makes a hero" and call it "news."
Also, props to the writers for allowing Kara not to be brilliant at her new reporter job right away.
Lena Luthor. She's complex, she's interesting, her friendship with Kara is well-done, and the seeds of its destruction are well-planted.
Not all of the fandom agrees with me, but I found Chris Wood effortlessly funny and charismatic as Mon-El.
I'm glad they didn't have Winn become consumed with bitterness over being rejected by Kara and turn to the dark side, because Jeremy Jordan is delightful in that role and I prefer him as he is.
Weaknesses: A sad consequence of moving production to Vancouver was losing Calista Flockhart as Cat Grant for most of the season. Her triumphant return for the last two episodes instantly reminded us how much she'd added.
Also gone? Maxwell Lord and Lucy Lane. After being major players in season one, they not only vanish, no one even says their names.
The writers had no idea what to do with James Olsen this year. As interim CEO of CatCo he did virtually nothing, partially because CatCo stopped being a hub for the story and partially because having Kara run to James when Snapper was mean to her would have been an awful character choice. So they turned him into a masked vigilante, but still could only barely fit him into the story.
On that note. "You can't be a superhero, James, you don't have powers!" says Kara, weeks after calling Green Arrow one of Earth's Mightiest Heroes. I guess she has higher standards for heroes on her own Earth?
Cadmus were fairly one-dimensional as villains ("We hate aliens! Grr!") and Rhea, Queen of Daxam, wasn't much better ("My son has a girlfriend? I'll conquer her planet!"). I dig that they represent the worst parts of the current US administration (xenophobia and elitism, respectively), but it doesn't make them interesting. Plus they're still pushing Livewire as Supergirl's "nemesis." No, man, just no.
High point: I don't love what calling the season premiere the high point implies about the season to come, but it is legitimately hard to top "The Adventures of Supergirl" and "Last Children of Krypton." Tyler Hoechlin made his debut as Superman, and not only was he a great Man of Steel, he and Kara made a wonderful double act.
Low point: "The Darkest Place." Supergirl falls into one of my least favourite tropes from last year, and Hank Henshaw returns, declaring himself "The Cyborg Superman." Which wouldn't be a bad thing, only in the context of the show, it makes basically no sense.
MVP: Chyler Leigh as Alex Danvers. There is no emotional beat this woman can't sell.
Advice for next season: That portal thing that happened at the end of the finale? That's a time portal, right? To the 31st century? Opening the door for the Legion of Superheroes? It had better be.
7. Agents of SHIELD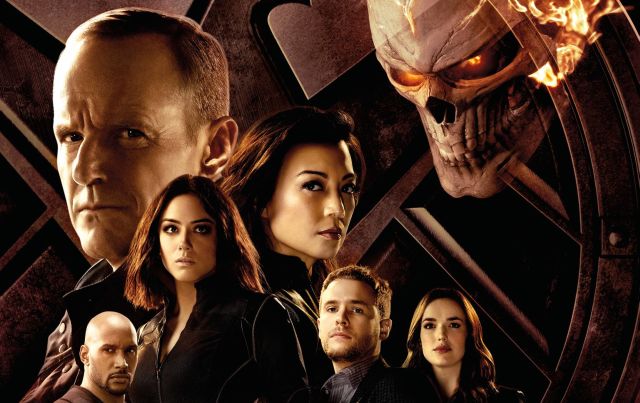 I will give Agents of SHIELD this… no show on this list has been so devoted to self-improvement and course correction. Each season has managed to improve on the one before it, meaning season four is their best work. Splitting the season into mini-arcs (Ghost Rider, LMD, and Agents of Hydra) made for a season that rarely felt drawn out. When the show moved from Ghost Rider to LMD after the winter hiatus, we had a sense of closure on Ghost Rider and its main villain before things began to transition to Dr. Radcliffe, his poor choices regarding robots, and the Framework. That said… trying to address all three arcs with one finale proved a leettle tricky.
Strengths: All of the main cast did great work this year. Fitz and Simmons in particular excelled as the heart and soul of the team (even if sometimes the heart was supposed to be Daisy).
Diego Luna as Ghost Rider was better than I ever expected the third, least popular, and objectively least cool (He doesn't. Even. Have. A motorcyle.) Ghost Rider to be. His arc got the season off to a good start.
John Hannah's well-meaning but ethically flexible mad scientist, Dr. Holden Radcliffe, was a great addition to the year's blend of magic and sci-fi. He flipped from ally to enemy and back again in ways that made sense. His melancholy last scene was pretty much perfect.
As indicated earlier, Mallory Jansen did an amazing job as Aida, Holden Radcliffe's prototype Live Model Decoy.
I've liked Jason O'Mara since the US remake of Life on Mars, so having him as Jeffrey Mace, the new Director of SHIELD, was a bonus. One day he'll be on a show for more than one season. One day.
The artificial world of the Framework allowed for the return of the late Agent Triplett and for a satisfying coda to Grant Ward, truly heroic for the first time, even if he was just computer code.
Weaknesses: The Watchdogs were bad. They were just bad. Okay, sure, I am on board with demonizing hate groups, especially now. So maybe humanizing a group of people based around hating people different than them wouldn't have been a great idea. The problem is, they were the main villain for most of the LMD arc and frequent villains throughout Ghost Rider, and they just weren't interesting. Also, even with everything that is happening in the government now, I find it hard to believe that a Senator could go on TV and say "I don't care if a known hate group was proved to be behind the attack, I still think it was [metaphor for real-world minority]," and not get called out more.
The Senator and Watchdog stooge in question, Senator Nadir, was played by Parminder Nagra. I normally like Parminder Nagra. But Senator Nadir was so devoid of interest that I rolled my eyes when I saw her in the credits. They ruined Parminder Nagra.
The head of the Watchdogs is so one-dimensional that even the other characters don't care about him or his motivations. And yet of all the villains this season, he's the only one still alive. Great. More of his nonsense to come. (It doesn't help that he's played by Zach McGowan from Shameless. Once you've seen a close up of someone singing "Kiss From a Rose" while orgasming it's a little hard to take them seriously as a figure of menace.) Ghost Rider and Agents of Hydra could have propelled this show into the top five, but man, the Watchdogs just dragged it down.
I wasn't thrilled with how they ended poor Jeffrey Mace. It felt hollow.
Having Mack refuse to leave the Framework because he couldn't leave behind his artificial daughter just added weaker drama to a finale that wasn't exactly struggling to fill the time. "Mack, this world isn't real" might not have been persuasive, but "Mack, this world isn't real and is in the process of being turned off" should have been.
High point: "Self Control." LMD may not have been their best arc, but it ended strong, as four of the core team is replaced with LMDs. But which? Things get tense as the robots begin to take over and the humans desperately try to figure who they can trust.
Low point: "Wake Up." Senator Nadeer begins to overstay her welcome as it becomes clear that May ain't escaping the Framework any time soon.
MVP: Mallory Jansen came close, but it has to be Iain De Caestecker. Fitz and Simmons finally a couple was adorable. Fitz working with Radcliffe on Aida made it seem like maybe this whole LMD thing might be a good idea. Fitz in the Framework was chilling. Fitz trying to come to terms with what he did in the Framework was heartbreaking.
Advice for next season: …Wait up. Is it happening? Are you doing it? Is SWORD showing up? Oh do say yes. But besides that… you hit a wall at the end of this season, where your ambition eclipsed your budget. What could have been an epic showdown between Ghost Rider an ex-robot with a body made of dark matter and filled with Inhuman powers became as brief and anti-climactic as the worst fights from Smallville because you ran out of money. Budget better.
5. iZombie
If there's one thing that marathoning the first two seasons of iZombie while waiting for the third to wrap up taught me, it's how good this show has been at discarding plot elements that don't work. Liv's family hasn't been seen since the premiere of season two, and nobody missed them. Major's addiction to utopium was mercifully brief. Would-be crime lord Blaine is way more fun as a loveable rascal than the teen-murdering pure-villain of season one.
That said… previous seasons balanced murders-of-the-week with a season-long villain arc that has historically built to a satisfying and (often literally) explosive finale. This season… we had zombie-run military organisation Fillmore Graves trying to build a home for the zombie nation, a group of paranoid gun nuts hoping to wipe out the zombie nation, and like a half dozen various mysteries and conspiracies, only some of which paid off in the end.
Still good… just a little more scattered.
Strengths: The cast is fantastic. Rose McIver always makes the many minds of Liv Moore a fun ride, but the supporting cast all had great material this year and none of them let it down. Major got to be more fun (seriously, Robert Buckley is too good at comedy to keep getting the grimmest plots every year), Rahul Kohli got the flex his dramatic muscles more as Ravi (though his dry wit remains a highlight), Clive got to be in on the secret at long last (technically that happened last season, but here's where it kicked in, plotwise), Blaine had himself a roller coaster, and Payton is a regular now. There's no weak links in that gang.
My rewatch also taught me that they established the District Attorney of Seattle's name is "Floyd Baracus" early season two. Given this show's established love of gag names, how did it take me a year to spot "DA Baracus?" I pity the fool who doesn't get that one.
Another veteran of creator Rob Thomas' cult favourite series, Veronica Mars, showed up in the back half of the season, as Jason Dohring plays Fillmore Graves' stern commander Chase Graves. That was a fun addition.
Rolling on D&D geek brain, Liv gathers the gang for Dungeons and Dragons to trigger a vision. One of the gang's reaction is… priceless.
A Clive-centric episode did a great job explaining two facts we learned about him in season two: his hatred of abusive fathers, and his obsession with Game of Thrones.
The side effects of the zombie cure opened the door to a new twist on the brain business. Let's just say that a bunch of zombies on enhanced choreographer brain was the best thing ever.
There are plenty of zombie stories out there, but zombies and humans trying to find a way to live in harmony as discovery looms close? That's new.
Weaknesses: Season one had the cohesive plot of Meat Cute: Blaine's brain-supply front stocked with murdered teenage runaways, and Major's quest to bring it down. Season two was all about Max Rager, and CEO Vaughn du Clark's attempt to clean up the zombie problem while using them to perfect his new drink, SuperMax. Both ended with big bang climaxes at the central business in question. This year… it's just this mishmash. The climax does less to pay off the season's stories than it does to set up next year. Some of those stories don't really get paid off at all. To wit…
-Fillmore Graves CEO Vivian Stoll had a vendetta against the zombie who turned her husband in order to extort him for brain money, ie. Blaine. But having set that plot up, it vanished into the ether mid-season, never to be paid off.
-So… did the people behind the zombie family murder in the premiere also steal Ravi's zombie cure doses? How did they know about them? They never came back to that. The cure was simply wished to the corn field so that Liv couldn't have it.
-And were they also behind the murder of the dominatrix from Spanking the Zombie, and the subsequent murder of the guy who did it? I guess, but I'm not positive why. That one also just fizzled out and really added nothing.
The problem with making the surprise murderer/conspirator the character you least suspect is that it also might be the character you least care about. Everything hinged on that reveal and it was kind of… meh.
Payton tells apparently amnesiac Blaine, who she knows to have been a murderer, drug peddler, and scoundrel of the first order, "We can only hook up if you don't get your memories back," and expects him to come clean if they do. Come on, Payton, you are smarter than that. Feigning amnesia to get with you wouldn't even make Blaine's top ten sins. I know he's easy on the eyes but come on.
Perpetual henchman Don E. is sometimes fun, but… he's the most annoying kind of side-villain. The one who assumes that because he works for a guy with a plan, he can be the guy with the plan, yet his every attempt fails catastrophically. Eventually I get tired of Don E. screwing over Blaine and causing catastrophes in his solo work and just want to see him get stomped on.
Major is still getting the grimmest storylines. They're better than his one-man crusade against Meat Cute and his fling with utopium, but "shunned by society" Major is still a bummer. No, I'm not making a "major bummer" joke. I am above that (right at this moment), and it would only lead me into ranting about how great that comic book was.
High point: "Spanking the Zombie" provided one of the more fun brains for Liv; fun return appearances for Ken Marino's slimy defence attorney and Daran Norris as Johnny Frost, the weatherman (and eventual anchorman) who manages to be a person of interest in Seattle's most scandalous murders; and a heartbreaking choice for Major. So it's definitely either that or "20 Sided, Die," featuring Team Liv's D&D session.
Low point: I think "Some Like it Hot Mess" is what knocked Liv out of contention for best female lead. The first of too many "train wreck brains," brains that barely help with the murder-of-the-week but do wonders to screw up Liv's life. Last year's low point was also a train wreck brain episode, and for a reason. On Smallville I'd call such occurrences "Red Kryptonite episodes," in which Clark's personality is changed just long enough to break any progress his relationship arcs had made in the last fifteen episodes, and they are never something you want to be compared to. That said… after Liv sloppily dances her way across the morgue, Ravi's reaction of "Hot mess club girl brain, you say," was priceless. Also, if you enjoyed Blaine and Payton as a couple, you're wrong and I don't like you. Okay, that was too mean, you're alright, let's get a beer sometime.
MVP: Still Rose McIver. Everyone crushed it at points of the season, but like or hate her current brain, no one crushes it like Rose. (I also love that Liv in human-passing wig and makeup is Rose McIvor with her natural hair and skin tone. If Liv had had to disguise herself as a human from Rose's home country, New Zealand, that would have been even better.)
Advice for next season: …I got nothing. Pretty sure you just blew up the whole premise in that finale, so I don't know what to tell you. Except maybe give Major a freaking break.
5. Preacher
Preacher is based on a cult but beloved graphic novel from the 90s, but managed to find a way to be satisfying to fans of the comic while still charting their own path. They provided what would have been easily the most gonzo show of the year, had the trippy Legion not come along.
Strengths: The cast is superb. All of them. I could spend another 500 words praising them individually but it's just all of them. Okay I'll mention one in particular… Jackie Earle Haley. He's amazing in basically everything and it's not different here.
The direction is really solid. A lot of the CW shows get flashy in the action scenes then go more basic in the dialogue, but Preacher has a consistent visual flare that puts it a cut above.
The characters are, on the whole, all pretty fascinating.
It looks like they're moving Arseface from his role as running gag in the books to replacing the spectral John Wayne as Jesse's spirit guide. I dig it. That makes sense if you read the comics. I don't have room to explain it here.
It feels like I'm underselling this one but this got so damn long, you guys…
Weaknesses: Sometimes it felt like they spent the first five episodes throwing crazy shit at the screen before they finally got around to telling a story with it. It's primo crazy, but it takes a while to form a narrative, and that doesn't help the pacing. That said… the plot became more cohesive as the show went on, which gives Preacher the edge over iZombie, which went the other way.
Also, if you don't follow the comics, some of it won't make much sense. They get around to explaining why every second episode has some sinister cowboy, but the guy in the white suit with the alarming taste in movies? Sure, I know who that is, but Johnny or Jenny First-timer won't, and they won't find out until season.
And I didn't love how disconnected Tulip was from the main story. She's just off on her own, in the slowest-moving plot, trying to talk Jesse into joining her for some vengeance. It's a plot that by necessity spins its wheels, since there aren't many places it can go, and meanwhile there are freaking angels getting in fights with a vampire.
High point: "Sundowner." Jesse learns the truth about Genesis, there's an incredible and hilarious fight scene, and we're not even at the credits yet. The plot kicks into high gear and still finds time for some great character moments.
Low point: "The Possibilities." Jesse has this new power he's finally noticing, but Tulip wants him to go get revenge on a former associate of theirs, and nobody knows Cassidy's a vampire, and this is the one where you start to wonder if all of these elements are going to come together in some sort of satisfactory fashion. And I'm telling you, newcomers might not remember that "Grail Industries" is a thing by the time you get back to that.
MVP: Joe Gilgun as Cassidy. Any scene he's in pops.
Advice for next season: You have our attention. Stop trying to get our attention with wave after wave of unconnected gonzo craziness and just tell the story. (Which, two episodes into the second season, it seems like they are.) Oh, if we're doing Jesse's childhood, could you make it less grim than the comics did? Five months that story ran and four of them were just oppressive. (Fifth was damn satisfying, though.)
Okay. Next time, we finish this.