Some people love the Superbowl. Some people live for the World Series. But me… I loves me the Calgary Comic and Entertainment Expo. For three days (and a sneak peek on Thursday night) the Stampede grounds here in Calgary transform from a place where we pretend to care about rodeos in order to go on rides and consume fair food that's about as healthy as a live grenade to a shimmering paradise of geek culture. It's gotten huge in recent years, one of the largest on the continent (albeit still nowhere near San Diego Comicon). Celebrities both faded and still popular stop by, comic and webcomic artists from across the continent set up booths, and you can get great posters from local artists. I've yet to fail to have an awesome time, despite being bone-weary and sore all over by day three.
Who wants some highlights? Because you're getting some highlights.
The Parade of Wonders
Friday's when things start to get real. The celebrities (or "media guests," in Expo terms) arrive, with the accompanying photo op and autograph sessions, the panels get underway, and the Expo lurches into full swing. Me, I started my Friday bright and early as one of the volunteers for the Parade of Wonders, a recent addition to the Expo that lets cosplayers of all stripes strut their stuff across downtown Calgary. Dozens of people braving the chill in the air and proudly strutting their costumes marched through the streets, accompanied by special guests such as Felicia Day, Anthony "C-3PO" Daniels, two Sons of Anarchy, a handful of Lord of the Rings/Hobbit actors, Arrow's Slade Wilson himself Manu Bennett, and the coolest Mayor in Calgary, Naheed Nenshi, sporting a bow tie and sonic screwdriver.
I'm a big fan of cosplay. And not just the "hot girls dressing as slutty superheroes/anime characters" realm of cosplay that most people lock onto. Regardless of gender, age, body type, or fandom, if you've devoted time, effort, and creativity to dressing up as something you love for the con, you're okay in my books.
I mean, obviously I have somewhat more affinity for people who dress up as things I like, such as the many, many Doctors, companions, Tardises, and Daleks you see every year, and we had a pod of them at the parade. Doctors from 4 to 11, one Dalek, a Tardis, and even an Osgood from the 50th. I saw at least five Osgoods over the weekend and each time regretted not saying "You there! Are you sciencey?" I'd have loved to be able to throw on my 11th Doctor suit and join them, but as official staff, my outfit was limited to "volunteer with jacket and backpack."
Photo ops
One of the services… no, call it what it is, one of the products available at Comic Expo is photos with the various celebrities. These vary in price depending on marquee value, and this year ran from around $40 for lower-tier individuals to over $200 for the prized Matt Smith-Karen Gillan joint photo.
The photo op process is a rapid one. Once you reach the head of the line, you go in, stand in your place, you have maybe a couple of seconds to request something specific, then they take the picture and out you go, because there's a lot of people behind you. Then spend some time becoming okay with the fact that your celeb looks great and you like a bulging tube of goo, or perhaps that your friend didn't warn you how little time you'd have with the lovely Katie Cassidy of Arrow before the camera was going off.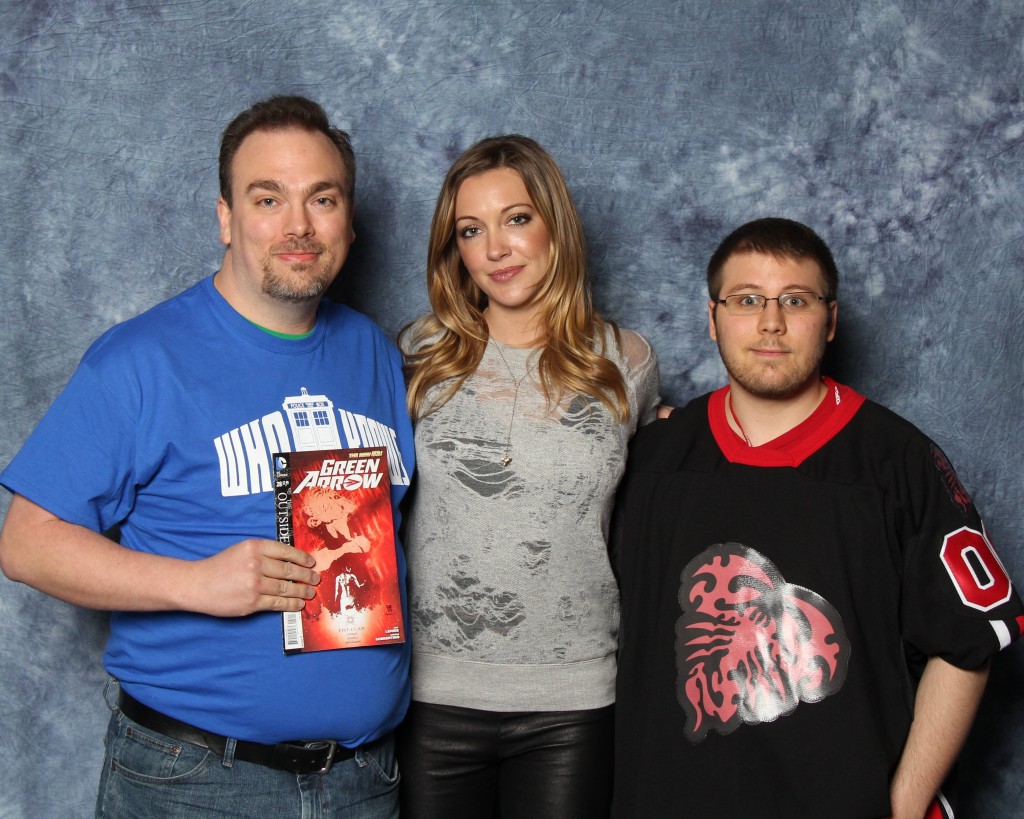 Some people complain that this is way too brief an experience,feel that given how short this process is, maybe it's overpriced. Some complain that for what a brief encounter it is, it's overpriced, and then feel that the event is somehow exploiting them. And while it's hard to say these people are wrong, per se, I can't really see the point in getting outraged about it.
First, the photo ops have to go this fast. They have to. Hundreds, sometimes thousands of people want one, and are willing to pay for them, and moving at this pace is how everybody gets a turn without having to wait in line long enough to have a Firefly marathon. Also, it's already a tiring process for the famous people involved. They're doing this for around two hours at a time. On Saturday, Matt Smith had something like four, five hours of photos with thousands of fans, after doing his panel, and after hours of signing autographs, and by the end of it all he was reportedly exhausted, and I can't exactly blame him.
Now imagine if everyone who bought a photo lingered around to ask a question or something. Putting aside how much this would cut the number of people who could get a photo op (suffice to say, a great deal), how much more tiring would that get? Would anyone be able to stay cheerful and pleasant for each and every person they had to greet and chat with? Wil Wheaton does his best, because he's wonderful, but even he gets tired, and even he would get sick of repeat questions eventually. And there would be repeat questions. Every time Arrow's Stephen Amell does a Q&A session through his Facebook page, somebody asks if he'll be playing Green Arrow in the Justice League movie, a trend I only expect to increase now that said movie is officially happening. And each time, he does his best to diplomatically explain that this is not a decision he's in charge of. But I doubt he'd be able to stay so calm and collected about it if he were being asked that, in person, fifty times an hour. Hell, I get tired of being asked the same question five times in one day.
Let me tell you about my Matt Smith/Karen Gillan photo experience. I have an exceptionally generous friend who always gets photo ops and always invites people to join, so I didn't actually pay the $200 and change myself. The line moved quickly: two years ago, for our Star Trek: TNG group photo, we waited several hours. This time we were through in less than one, even including lining up in advance of the appointed start time. When our turn arrived, I calculated the walking pace necessary to ensure that I, specifically, ended up next to Ms. Gillan. I felt her arm go around me, and took this as permission to put mine around her as well, while trying above all to remain cool about it. The photo was taken, and we moved for the exit. I thanked both of them, and on the way out, thanked Matt Smith for three great seasons. He smiled, thanked me right back, and gave me a friendly slap on the shoulder…
…But the better story belongs to Ian Pond, of "Dan and Ian Wander Europe." On the way in, one of the ladies in our photo announced that Ian's last name is "Pond," which got him a "Come along, Pond!" from Matt. And that's pretty awesome.
Sure, the whole thing happened in less time than it probably took to read all of this, but it was special all the same. You can have a positive experience at these photo ops, you just have to learn to work fast.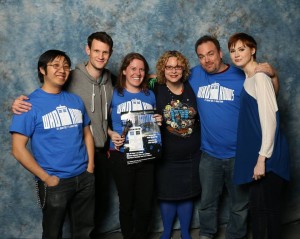 Also, as long as so many people are willing to pay for photos and autographs, people are going to charge for them. Monetizing the audience is how every movie, TV show, and theatre out there pays the bills, and it's been going on for centuries, so it's a little late to start complaining now.
Other encounters
Besides, if you want more time to connect, get an autograph. It takes longer to write a message than it does to take a photo, and the cooler celebs won't mind a little chatter.
Last year, I met the Seventh Doctor, Sylvester McCoy. He didn't have a line at the time, so while we was signing me a Doctor photo, I mentioned that I'd seen him in Noises Off (a play I'd just been in myself) back in 2003. And while I can't prove Matt Smith wasn't just trying to be friendly in the above story, I do not exaggerate when I say Sylvester's face lit up as soon as I mentioned that play. We had a nice little chat about the show, how insane it is to do live, but how much fun it is as a result.
This year I got autographs from Bruce Campbell, an actor I've loved for over half my life; Arrow's Katie Cassidy, pictured above; and Adrian Paul, aka Duncan MacLeod, the Highlander, but the highlight had to be Manu Bennett, Azog the Defiler from the Hobbit movies and, more importantly to me, Slade Wilson on Arrow. He not only shook my hand twice, something most celebrities looking to escape the con without getting sick will avoid, but we had a nice chat about his performance, about some of the layers he's given Slade recently. It was a thoroughly pleasant encounter, I like to think for both of us.
Staying Positive
Which brings me to one of my mission statements for the weekend: be kind to everyone. Wherever I was, whatever I was doing, be kind. When I was volunteering, I tried to be as friendly and helpful to the attendees as I could. When working the Scorpio booth, I greeted everyone with a smile. If someone was late arriving for an autograph session or they'd capped the line before I arrived, I was cool about it, and above all, did not take anything out on the volunteers. A volunteer working a media guest's booth has no control over when they arrive or when they have to leave, they're just decent people working hard for no money, and deserve some kindness and respect.
I'm kind to the media guests, and don't try to hog more time than they have to spare or take candid photos without permission. I'm kind to the organizers, and don't express any frustrations I might have had with volunteer policies in such a public forum (sorry, readers). It's not hard. It ultimately feels better than being a dick about things, than throwing a tantrum at the girl telling me Manu Bennett isn't signing any more autographs until later in the day, I'll have to come back. And it's just a better way to live.
Web comics
I've talked a lot about the celebrities, and while their panels can be great (certainly Bruce Campbell was entertaining and Matt and Karen were amazing) and I do like getting photos and autographs, I haven't mentioned my other favourite thing about the Expo: web comic artists.
I read a lot of webcomics, several of the cool people behind them make the trek to Calgary each year. The line-up always varies, depending on people's budget and availability, but I always try to see them and get some books, sketches, or other merch. Hell, some years I'm more excited about the web comic crowd than the celebrities.
I didn't do as well as normal this year. I stopped by Girls With Slingshots creator Danielle Corsetto's at some point on Friday, to fill out my collection of her books. She seemed briefly embarrassed to not remember me from previous years, which frankly seemed insane to me, and appreciated me not being a dick about it and instead explaining that I placed her under no obligation to do so given how many fans she must meet at these things. She's a genuine delight of a human being, and it's always a pleasure to see her, so I make sure to try and return that favour. Plus I got to watch Ryan Sohmer of Least I Could Do and the rest of the Blind Ferret empire repeatedly blast her with a confetti gun, which in his defense was pretty funny.
One of my favourites, Joel Watson of Hijinks Ensue, has been making regular appearances the last three. I always try to visit him, as he makes my favourite prints and t-shirts (and also a comic I routinely find hilarious), but this year he was with the crew from Cyanide and Happiness, as he's been doing a lot of work with them on their YouTube shorts. And those guys were busy. There was always a line, and being constantly in a rush from place to place, I never got around to stopping by until the end of Sunday, when they were almost out of merch and no longer doing sketches (as the con was about to close and they didn't have time), meaning I chose to forgo the line.
Randy Milholland of Something Positive was here for the first and, sadly, probably last time. Unfortunately Randy didn't sell much over the weekend, and given how expensive it is to fly a bunch of prints and posters (and himself) from Texas to Calgary, he needed to. I made a last-minute stop to his table, buying four posters and two comics, but I doubt my $39 turned the corner and made the weekend profitable. Which is sad, because I love his comic and don't like the idea of him losing money in my city.
He also drew an amazing Cards Against Humanity answer for a friend, but I can't really speak of it here.
I also didn't manage to make it to Jeph Jacques of Questionable Content (again…) but apparently he sold everything, so go him.
And it has just occurred to me that I posted links to all of those comics the one day almost all of them are doing guest or filler strips. Well, they're all worth it, trust me.
Wow, all of that and we've just covered things I saw, not things I actuallydid. To be continued, I suppose.