Comic book TV is everywhere these days, and it's happening all year. So I'll hand out awards and rankings in June, but in the meantime, we'll be reviewing shows one by one as they wrap up.
This installment: an unconventional search for God.
Short version, if you're not watching Preacher, then start.
Premise
Following the explosive events that ended season one, small town preacher with a shady past Jesse Custer is on the road searching for God, with his volatile girlfriend Tulip and buddy Cassidy the Irish vampire in tow. Jesse's still bonded to Genesis, the half angel/half demon baby that gives him the power to make anyone do anything he says. So this should be easy, right?
Well… There are a few complications.
First… and I'm surprised the comics didn't go into this more… the world is big and God is hard to find, even if you think you know which city to start with. And since nobody's ever met God, you could be looking right at him and you wouldn't necessarily know.
Second… last season, the angels who were supposed to be guarding Genesis dispatched the unstoppable cowboy killing machine, The Saint of Killers, to kill Jesse.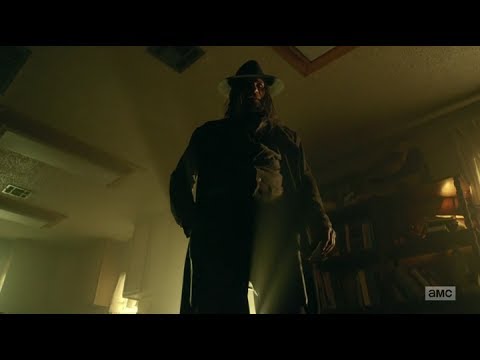 Third… The Grail, a religious organization that secretly controls the world, has taken an interest in Jesse. And one of their top people, the cunning and heartless Helmut Starr, wants to control him.
And fourth… Tulip and Cassidy are not 100% on board with this plan. They have their own things going on that Jesse barely seems to notice, and the perpetually debauched Cassidy is still sweet on Tulip.
Oh, also, Eugene "Arseface" Root remains in a sticky situation after last year, and makes an unexpected friend who might be able to get him out of it.
This show's debut season was impressive if scattered, but with all of the origin stuff settled, they were off like a shot this year, and everything was clicking. In university, half of my friend group eagerly waited for the new Preacher every month, and now I'm right back there waiting for fresh Preacher every week.
Or, at the moment, eight to nine months. Damn it.
Strengths
Wham! Pow! Billy Joel'd! When Preacher has a major fight scene, they do not mess around. It doesn't happen every episode, but there are some epic throwdowns. Everyone else doing fights on TV, watch Preacher and take notes (yes, you, Iron Fist, always you, Iron Fist). The rest of comic book TV has their work cut out for them if they want to top the Billy Joel Fight.
Tighter focus: Season one was spread over the entire town of Annville, but season two opens with the thing season one most notably lacked… a tight focus on the three leads and their relationships. After too many season one episodes where Jesse, Cassidy, and Tulip were split up, they're finally a unit, and the first half of the season is laser focused on them, and it's delightful.
The Faces of Evil: As good as Jackie Earle Haley was as Odin Quincannon, the show absolutely crushed it this year with the Saint and Herr Starr. Graham McTavish is chilling as the killer cowboy, and Pip Torrens kills as Starr. He's savage, humourless, absolutely hateable yet fascinating to watch. If he's to be the main villain on this show, may he last six seasons and a movie.
Twisted Storytelling: I read every issue, miniseries, and one-shot of original Preacher, and I never know what they're going to do next. For example, one of the three new regular characters? Until he walked on screen for the first time, I would not expected [REDACTED] to be a character at all, let alone an opening-credit-regular character. And with one slight exception, everything they have pulled has been pretty impressive.
Two Acts: Basically, the show splits into two halves, fairly cleanly. The first half follows the trio's journey to New Orleans and run-ins with the Saint (with revelations about their pasts), and in the second half, Starr and the Grail make their play. It works well.
Impressive Cast: The cast all does such great work, it's impressive even if you don't know that almost none of them are speaking in their native accents. I think it might just be Julie Ann Emery as Featherstone, and I'm not even positive about her.
Cassidy and the angel Fiore take a break from a hedonistic bender to read Archie comics.
Learning about the Saint of Killers involves the trio reading the actual, original Saint of Killers miniseries.
A Bill Hicks poster in Fiore's dressing room serves as a neat Easter egg to the Bill Hicks tribute issue of the original comic.
They actually did Humperdoo. I wasn't sure they would but they did. (When it happens you'll know.)
Weaknesses
Underused Tulip: Somehow Jesse is still the only one whose story has momentum. In the back half, when cracks begin to form between the central trio (which of course they had to, so let's not call that a flaw), Tulip's plot has no second gear. Again. And Cassidy's is mostly background.
High Point
Sokosha. After two shootouts and a lot of walking, the Saint of Killers comes to call on Jesse… with unexpected twists and hints along the way.
Low Point
Backdoors. Look… there aren't really bad episodes, but… sometimes, when the protagonists are clearly being manipulated, and they're not seeing it happen, and you want to scream "Damn it, Will, Hannibal is literally messing with your brain," but you know this is just going to keep happening until the finale… it can get frustrating. That's where I was going into Backdoors.
Also the more they split up the main trio the more the show suffers, if only because they are not good at giving Tulip her own story.
MVP
Pip Torrens as Helmut Starr. It's a whole new Preacher when he shows up.
Tips For Next Season
Okay. So. We're going to Angelville. Gonna finally meet Jesse's less noble relatives. That is… gonna be thing, and after the Saint and Starr I trust you to nail it. And Cassidy's there. That's new, he took that arc off in the books, so seeing Cassidy meet Gram'ma and Jody and TC could be neat.
But you know who else is around that wasn't in the comic arc? Herr Starr. I want to see Starr and Gram'ma cross paths in just the worst way. Give me that, please thanks.
Also Tulip and Featherstone's reunion should be a fight for the record books.
Overall Grade: A-
Coming soon to this feature: I swear to Zod I'm going to get around to watching The Tick soon.
Coming next time to this blog in general: something less TV related.
Does that mean I'm done with examining Doctor Who? HA! No.