"Wait, it's been how long since I blogged about my old plays? Twenty-five months? Wow. And what have I been talking about in the meantime? No, aside from The Flash and Arrow."
…
Huh.
Someone really took "My blog, my rules" to heart, I see.
Well, back to it. I mean come on, Dan, they were finally getting good.
Ladies and gentlemen, join me on a trip back to 2008, a time of antiquated things like hope, optimism, and American democracy… a time when I decided to take a crack at a genre I'd long enjoyed, but never experimented with… farce. And then I made it a murder mystery. I do like slapping murder mysteries onto things. This is Dying on Stage.
What's it about?
Call it "Murder at the Muppet Show."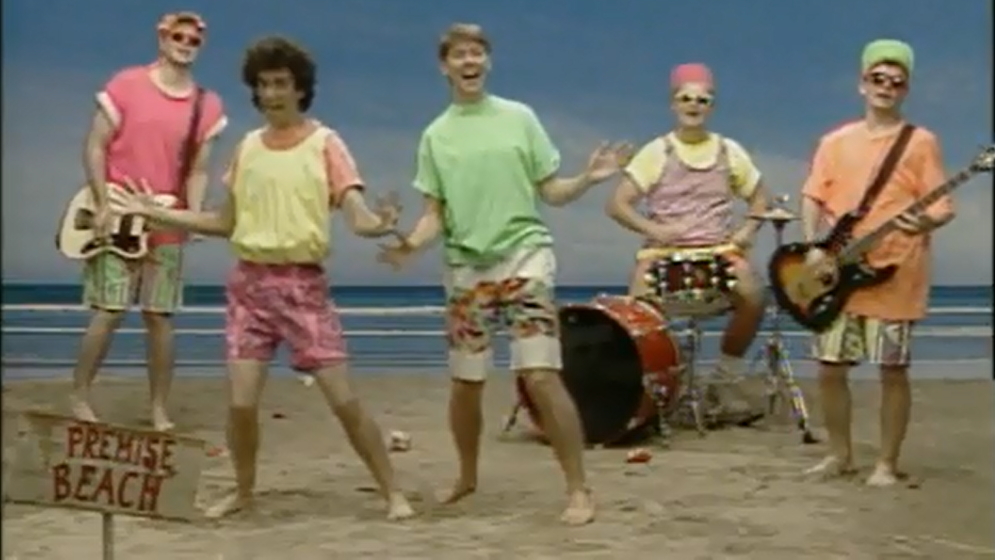 The Comedy Invasion is a struggling sketch/variety show (picture a non-televised Saturday Night Live, or a Muppet Show with humans and a musical guest) hosted by its creator Johnny Rayner and produced by his long-time business partner (and to his chagrin, only business) Mera Lucas. Tonight they've gotten a windfall that could turn their fortunes around… star of stage and screen Gareth Gardner has agreed to guest appear. If the show goes well, they're on top.
So imagine their dismay when their asshole lead actor dies at the end of the opening sketch, apparently poisoned. It's up to the remaining cast and crew to figure out who the killer is without Gareth or the audience noticing anything's amiss. Cue hijinks!
So why'd that happen?
…I'm not sure I even remember.
I certainly am a big Muppet Show fan, but in the end it didn't have that big an influence. There might be some traces of Kermit the Frog in Johnny's occasional flustered ranting and role as MC. Resident comedienne Finnian Shale (an early case of me defying the "comic characters are men" stereotype and saying "Well, why can't this role be a woman?") certainly owes a debt to Fozzie Bear, especially given her big joke routine is a direct homage to one of my favourite Fozzie bits.
Maybe it had some influence from my love of sketch comedy in general, really. Back then I think I was using Kids in the Hall as background noise while writing. That would make sense. The continued presence of Premise Beach on my blogs prove I'm a bit of a Kids in the Hall fan. Maybe fondness for the brilliant and sadly forgotten late 90s show Viva Variety drove the notion into my head. Maybe it just came to me. I used to write sketches, especially back in the days of my old company, Mind the Walrus, and had some funny ones lying around that I felt I could be seen more.
No, wait, now that I think about it, I reused old sketches because I hadn't written sketch comedy in several years and had slightly forgotten how. Hmm.
I guess at some point "Murder at the Muppet Show" became a fun idea and I decided to chase it, even though farce is a whole different animal than simple comedy.
I'm not positive when I decided to combine murder mystery and farce, but it works pretty well. The thing that drives a farce is high stakes. There is a secret, or a crisis, and any second it could come out, and if it does, lives will be ruined. And from there comes our pace, the desperate dance of lies and cover-ups that fuel the comedy. Hiding a body, or a series of bodies, while trying not to be the next victim provides those stakes.
How'd it turn out?
Really, really funny.
The opening scene was the biggest challenge. I needed a scene of pure pre-show chaos, where everything's crazy and everyone's high-energy and trying to get prepped, and at the same time it needed to accomplish two key things. First, introduce the cast of ten characters (well, introduce nine of them and hint at Gareth, who would show up in the next scene), and second, give as many of them as possible a motivation to kill Frankie, the lead character and first victim. Tricky juggling act but I think I got there.
Gareth Gardner works well as a hybrid of two archetypes: he's every Very Special Guest Star from the Muppet Show (above this nonsense but still having a good time), and the Suspicious Constable from British farces, constantly spotting the holes in the protagonists' cover stories.
Not all of the cast is super well developed, but given how fast some of them need to die I don't see how that's my fault. This thing needs to hit the ground running, so I don't have unlimited time to spend teaching everyone what vain actress Veronica Horne's hopes and dreams are. I just need you to know she's narcissistic, weaponizes her sexuality, and the shier actresses don't love her.
Bucky, the long-suffering intern, is as funny as he needs to be. Especially if you get someone hilarious in the role, like we did. Cliff the stage hand's forced transition to leading man is a nice arc. I enjoy Finn. She's so earnest and so bad at keeping a secret. Her habit of saying exactly the wrong thing at any given moment might be a bit of Fozzie Bear slipping back in.
Also, I got to end it with a line that had been in my head for a while… "If we spirits have offended, think but this and all is mended… No refunds. Goodnight everybody!"
There is one odd thing that happened. Some of the sketches didn't get the laughs I expected, at least not at the workshops. And it's not because the sketches weren't funny, they were tried and true material. I've gotten laughs with Lost and Found and Celebrity Where Are My Pants before and since. It's just that compared to the more rapid fire off-stage scenes, the sketches slowed the pace some. A weird effect that doesn't really help.
But that might be more of a staging issue.
Would you stage it again?
Absolutely. That said, there were a couple of issues that came up during rehearsal, that we never got around to smoothing out. See, if I'm at a rehearsal and not on stage, I like to read. And the director took that to mean that I couldn't be interrupted or asked questions. Which… makes no sense to me.
But anyway, it works. The major comic set pieces are reliable and not difficult to pull off. The pace is solid, and the full-on Agatha Christie Poirot-style "It was YOU!" revelation of the killer is enjoyable.
Man, why haven't I done this one again…
Repeated theme alerts
Man and Woman Cannot Be Friends: Of course there's a romantic C-plot between Johnny and Mera, because why not.
Writing about writers: I mean, there's not a lot of discussion about it, but Johnny probably writes the show, doesn't he? Someone must.
Something something pop culture reference: Well I mentioned the "Good grief, the comedian's a bear!" homage, but here's an obscure one. Bucky the intern's real name is Hubert. This comes from the first "An Evening With Kevin Smith" DVD, in which one of the fans asking questions introduces himself as "My name is Hubert but everyone calls me Bucky," and Kevin runs with it. "BUCKY! You don't even need to ask a question now, man… what was your real name?" "Hubert." [Kevin chuckles] "Bucky!"
Next time… how do you follow up the funniest thing you've ever written? You abandon comedy and get dark.