Time to continue my look back through my old scripts. Next up, my second collaboration with Jason Garred: Two Guys, a Couch, and the Fate of the World. A play-within-a-play, with the ridiculous turned up to 10.
What's it about?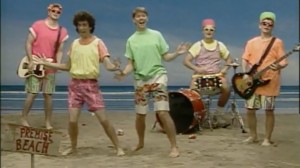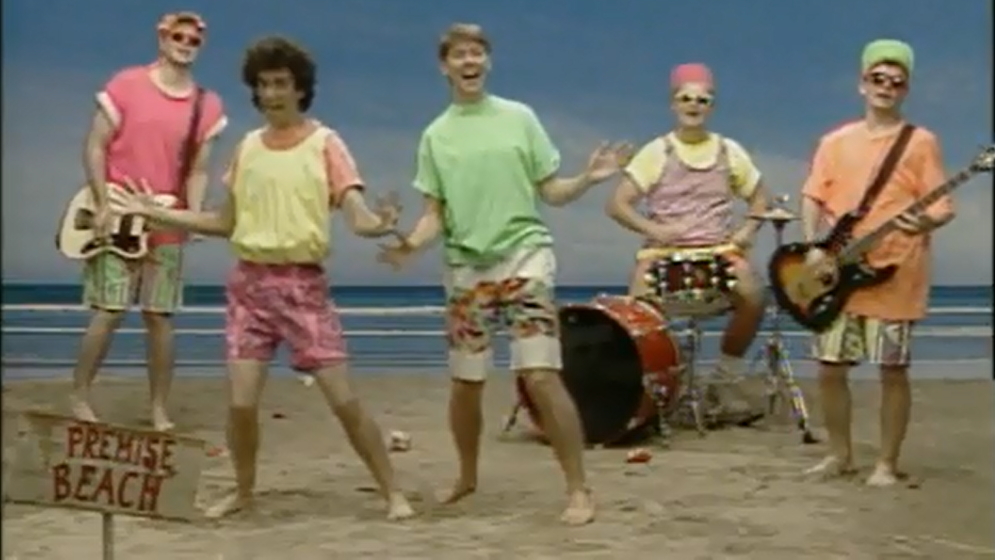 Phil and Chris are two friends attempting to write a play together. Phil wants action, adventure, and romance. Chris wants something weighty and philosophic. They settle on a spy thriller: the adventures of Dirk Rhombus, secret agent. The audience watches Dirk and the play come to life as Phil and Chris are writing it upstage. As Phil and Chris fight for control, characters twist and change, plot elements are introduced, discarded and re-written, the occasional musical number sneaks in despite Chris' protests, but we eventually make our way through the tale of Dirk Rhombus and Canadian agent Janet DuBois' battle against the fiendish Swedish supervillains Simone Saiz and Bjorn "The Barbecue" Berger.
We did like puns, didn't we.
So why did that happen?
Simply put, we wanted a follow-up to Trigger Dandy, and we wanted to keep the band together. So we needed something with a similar cast size (bloody huge), similar levels of wacky (again, bloody huge), and that comic energy that had worked so well in the Trigger trilogy. The way I saw it, Jason and I had such differing senses of humour that anything we agreed on must be hilarious. So we hit this thing with everything we had. There were carless car chases (a concept it took three productions to make truly hilarious–the early directors weren't great at big comedy), a fiendish mad scientist, references to pop culture (me) and Canadian government officials (Jason), and a key sequence in which Phil, having broken up with his girlfriend Tina, starts attempting to kill Trina, the character he clearly based on her, while Chris is forced to keep saving her as she's become essential to the plot.
There were, of course, those who claimed that Phil and Chris were somehow based on myself and Jason, respectively. These claims were harder to deny when my mother insisted on saying "I watched them write this, and that's exactly how it went." This would not be the last time that I'd have to duck accusations of Phil and Tina being based on real people.
How'd it turn out?
It's silly. It's incredibly silly. But if you can make yourself okay with that, it's also a great deal of fun. Of course, as we learned, it requires a director who understands "funny." The first time we did it, I had to volunteer to block some of the sight gags myself as the director wasn't quite getting it. The second time was co-directed by Jason Garred, so whenever the other co-director screwed something up (often–she habitually directed away from the joke), I was able to correct it through Jason. The third production I gave up and just directed it myself, despite my insistence on also playing Phil.
Damn it, young me, why you gotta be so stupid all the damn time.
And even I managed to blow one of the sight gags! After being so insistent that only I could wring the maximum hilarity out of this show, I let one of the cast convince me that instead of having a horde of ninjas burst out and defeat the villains (Phil had been trying to get a horde of ninjas into the show the entire time, and finally succeeds in the climax), it would be just as funny to cut to a blackout and bring up the lights on a horde of ninjas standing over the defeated villains.
Well, it wasn't. It just wasn't. But it happened because I allowed it to happen. Damn it.
This was my last full-length collaboration with Jason. We'd reunite years later for the previously mentioned Cube Root of Death, but that was it. After Two Guys, I started flying solo.
With initially mixed results.