Random Thoughts
Okay, so, a lot of what we did in Rome was just standard tourist stuff. We toured the Vatican…
…where we took in the Sistine Chapel (I did not risk getting my phone factory reset by getting caught taking photos) and St Peter's cathedral…
…visited Trevi Fountain…
…and other big impressive fountains…
…got lunch at the fanciest McDonald's I've ever seen, conveniently near the Spanish Steps…
…and of course hit the Colisseum and the Roman Forum.
In other words, we went to well-known places and we looked at stuff, then ate Caprese salads and pasta and a whole bunch of delicious gelato. Not a lot of stories to tell. Heck, I only sort of got a crush on just one tour guide, and that's way down from Ireland. Shoot, I fell in love twice in the old Jameson's distillery alone, once with the tour guide and again with a bartender.
So without some cool story about unexpected Vatican antics (everything was expected and not really antic-y), here's some random thoughts about Rome as a city.
Water water everywhere: Everywhere in Rome, and often in other Italian cities, there are free public fountains, pumping out a steady stream of cool, clean, drinking water. This was obviously a huge plus, because it was really very quite warm out and steady options to rehydrate were very welcome. For a week I never let my bottle fully empty, because if it was never empty, that meant that I still had at least a bit of Trevi Fountain water. Or so I chose to believe. It would have been impossible to prove otherwise. Some of the fountains were just spouts, some were really cool…
It wasn't easy getting a good photo of this one, because the second Ian and I tried to get a photo without anyone in front of it, some jag tourist with his family decided now was a perfect moment to really thoroughly clean his feet. Left foot… right foot… left foot without the shoe… right foot without the shoe… now just the left shoe…
Jesus, man, there is a time and place, and it's in your shower.
The Ruin With the Cats: There is one archaeological site, somewhere between the Forum and the Vatican, that has been taken over by cats.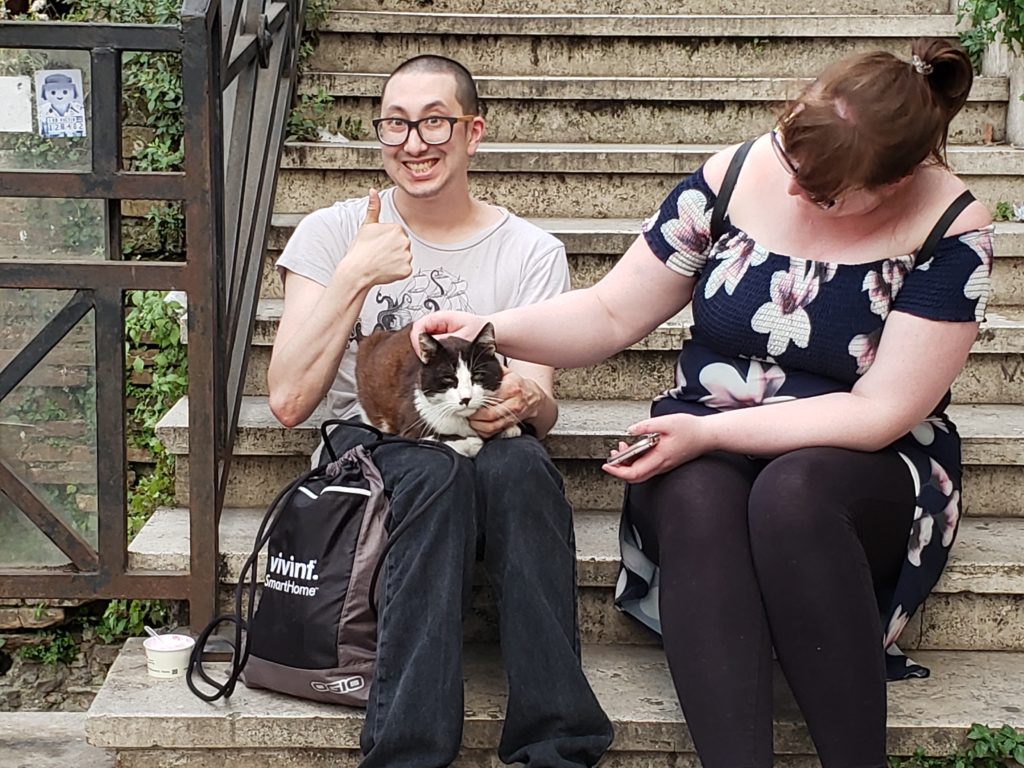 Now I've never been what you'd call a cat person per se… I like them fine, just not as much as dogs… but I did love the ensuing sign outside the site.
"Don't throw cat food into the archaeological site" is such an amusing sign to need to put up. It's just so pleasing that this is a thing they need a sign for. It's like the polar opposite of "Please don't walk through the mass graves," a sign that wounds your soul for being necessary.
The Catch of all This History: Rome has been trying to build a C line for their metro system for many years. The problem is that Rome is built on older Rome, so every time they start digging for the metro, they trip over another archaeological site. At which point what little money the City of Rome has gets moved from infrastructure to excavation. I mean… it's technically better than saying "Yes, I get that this land was important to you, but now it's important for this pipeline," like we do here.
Next time… we all go hand in hand, hand in hand through our boat life.