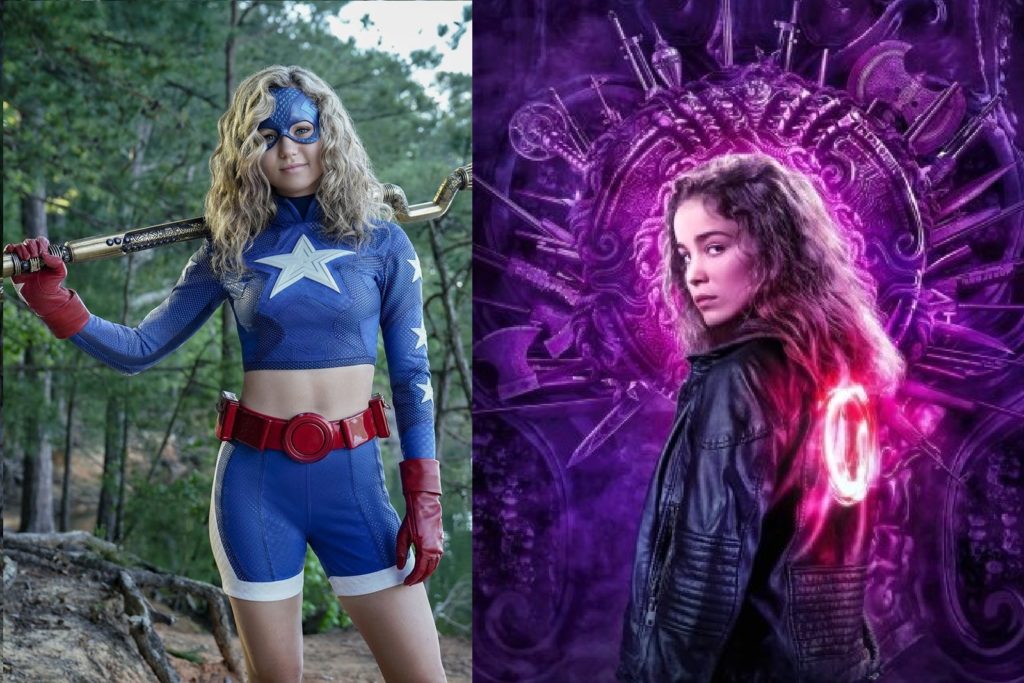 Let's do a quick look at the world, shall we?
The leading voice in fighting climate change is a Swedish teen girl, furious that inaction by world leaders has jeopardized her chances of having an adulthood. Some of the strongest responses to both COVID and gun violence are coming from New Zealand prime minister Jacinda Ardern. My home province has been steadily collapsing ever since all the right-wing idiots decided to vote out the woman running it and replace her with an inept hillbilly out to privatize health care during the worst health crisis in living memory. And to my left-leaning ears, Alexandria Ocasio-Cortez seems to be the only person in Washington talking any sense.
Seems obvious to me, if anyone can save the world, and the world needs some saving… it's gonna be the ladies.
So it's fitting that Quarantine Times brought us two teen girls with a mission to save the world: DC's Stargirl, featuring a character DC wunderkind Geoff Johns created in the 90s as a tribute to his sister who died in a plane crash; and Warrior Nun, based on a manga by Ben Dunn. On the surface, they seem very different, but they have some interesting connections in the ways that they're completely opposite.
Today I'd like to get into all of that, but before I can, let's cover…
The Basics
Stargirl: Teenager Courtney Whitmore finds her life upended, as her mother Barbara (Amy Smart, nice to see her again), her step-father Pat Dugan (Luke Wilson, doing pretty great), and step-brother Mike leave Los Angeles for Barbara's childhood home of Blue Valley, Nebraska. Nothing seems to be going well… until among Pat's things Courtney finds a powerful weapon called the Cosmic Staff, which is slightly alive and has chosen her to wield it.
See, ten years ago, on the same night when Courtney and Barbara lost touch with Court's father, Pat was the sidekick to Starman, leader of the Justice Society of America… but nearly all of the JSA were killed in battle with the incredibly cleverly named villain group the INjustice Society of America… cold and cruel telepath/telekinetic Brainwave, master tactician the Gambler, the musically-powered Fiddler, the magical Wizard, deadly fighters Sportsmaster and Tigress, evil scientist/slightly immortal Japanese war criminal Dragon King, the hulking monster Solomon Grundy, The Shade (who doesn't really appear as apparently he rage-quit the group a while back), and their ice-powered leader Icicle.
And damn, can we give props to Geoff Johns and the other writers for going to DC leadership, saying "Which villains can we use on this show," being handed Sportsmaster and Icicle, and still somehow nailing it.
Courtney decides that the staff chose her because Starman is her long-absent father, and the reason he never showed up for Christmas ten years ago (or ever since) is because that's the night the JSA fell. And so despite constant protests from Pat that this is far too dangerous and Starman is not her father, because despite a resemblance to the blurry photo Court keeps in a locket, her father was not named Sylvester Pemberton*, she takes up the staff and becomes Stargirl, and not a moment too soon, because the ISA have pretty much taken over Blue Valley, and they are up to no good. So Courtney turns to the outcasts among her new classmates to build a new Justice Society to take them on… while Pat breaks out the giant robot armour he's been working on to begrudgingly help as S.T.R.I.P.E.
*I'm probably the only one who was bothered by the fact that there have been at minimum six different heroes who called themselves Starman and Sylvester Pemberton, the Star-Spangled Kid, was not one of them… but I get it. Comics-Courtney initially adopted the legacy of the Star-Spangled Kid, then became Stargirl when Starman #5, Jack Knight, gave her his cosmic staff to carry on in his name. For the TV version, it's hell of simpler if she takes her inspiration from one person, so sure, make Sylvester Starman, it cleans things up.
Warrior Nun: for centuries, the fighting nuns of the Order of the Cruciform Sword have battled demons on Earth, with weapons made of an unearthly metal called Divinium and under the leadership of the Warrior Nun, who is bonded with an angel's halo, giving her powers and abilities to fight the demons that possess humans for evil purpose, and with some more difficulty, the hulking Tarask demons that seem to hunt the Warrior Nun.
After an ambush on the Order, led by people who somehow know the Warrior Nun can be killed with Divinium and also have some, the current Warrior Nun dies, but instead of her heir apparent Sister Lilith, the halo ends up inside recently deceased 19-year-old Ava Silva (Alba Baptista), who has spent most of her life a quadriplegic living under the care of an abusive nun. This is not seen as a great result for the Order, as Ava doesn't have a strong interest in fighting demons for the church that made her life even more miserable than the car accident that crippled her and killed her parents already had. Plus not-quite-nun Shotgun Mary is out to uncover the conspiracy behind the assassination of previous Warrior Nun Sister Shannon (who it's strongly implied was Mary's girlfriend); scientist CEO Jillian Salvius thinks she can use Divinium to build a portal to heaven; and papal candidate Cardinal Francisco Duretti thinks the Order needs some restructuring. It's a hectic time. Sure hope there aren't any shocking revelations coming about the Order's history, boy that wouldn't help anything.
Similarities
So already we see a few common threads between Stargirl and Warrior Nun. Both have teen girl heroes (although Ava is only barely still a teen); both invest a lot into the ideas of legacy and destiny; both have their heroines inheriting a weapon capable of deciding who is and isn't worthy to wield it (the halo sometimes rejects an unworthy host, I failed to mention that); and each has a reluctant mentor figure who is convinced she shouldn't have said weapon but were rejected from wielding it themselves. But once you get past those similarities, it's a little interesting how these two shows tackle their first seasons in completely opposite ways.
Next Page: Our leading ladies