In the summers of 1995-1997, I spent three amazing, magical, life-changing long weekends in Los Angeles. In October of 2018, once my memories of LA were old enough to get drunk there, I returned.
These are the stories of my return to the City of Angels.
And the self-proclaimed Happiest Place on Earth.
Dara's First Disney
The motivation for the trip, the reason for the season, as it were, was that when my parents were babysitting my niece Dara while her parents were in Seattle for a conference, my father seized the opportunity to take Dara on her first trip to Disneyland, now that she's old enough to appreciate/ remember it but my parents aren't yet too old to go with her. Which… was a tricky needle to thread. This year was kind of The Window.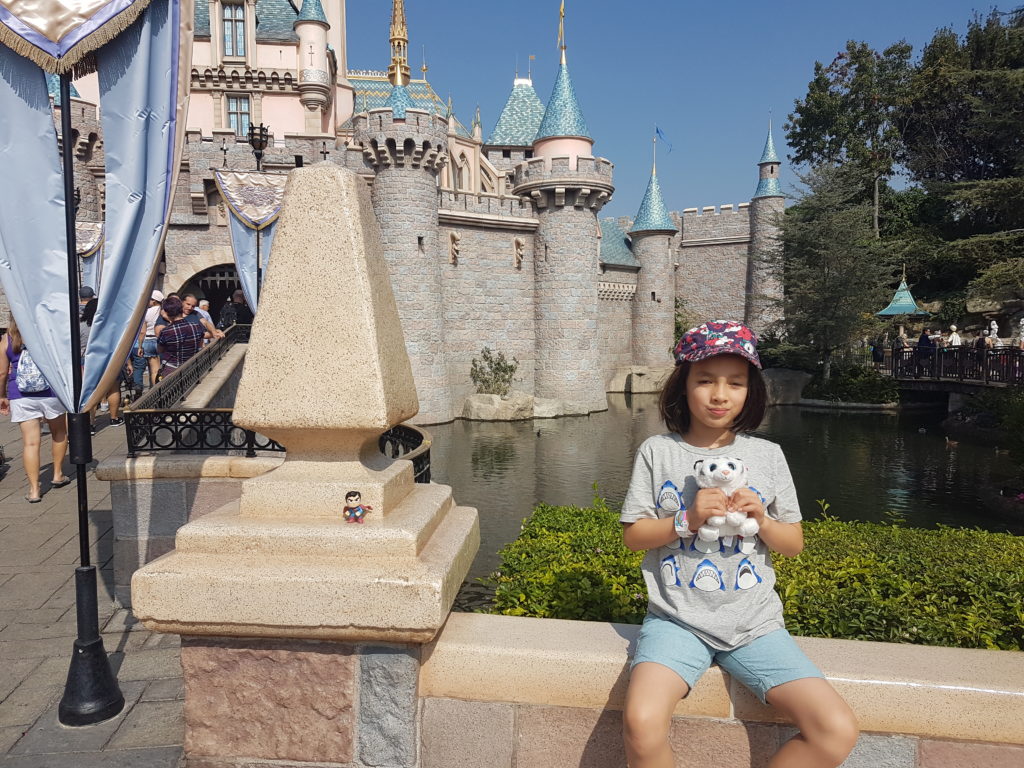 Still, they felt some backup would be useful, in the form of their other son, who refuses to admit he hasn't been 27 for some time, and thus is 100% ready to go on every ride with young Dara.
Except for It's a Small World After All. I drew a line at that earworm nightmare factory. Which turned out not to be necessary, because it was closed for refurbishment. Score.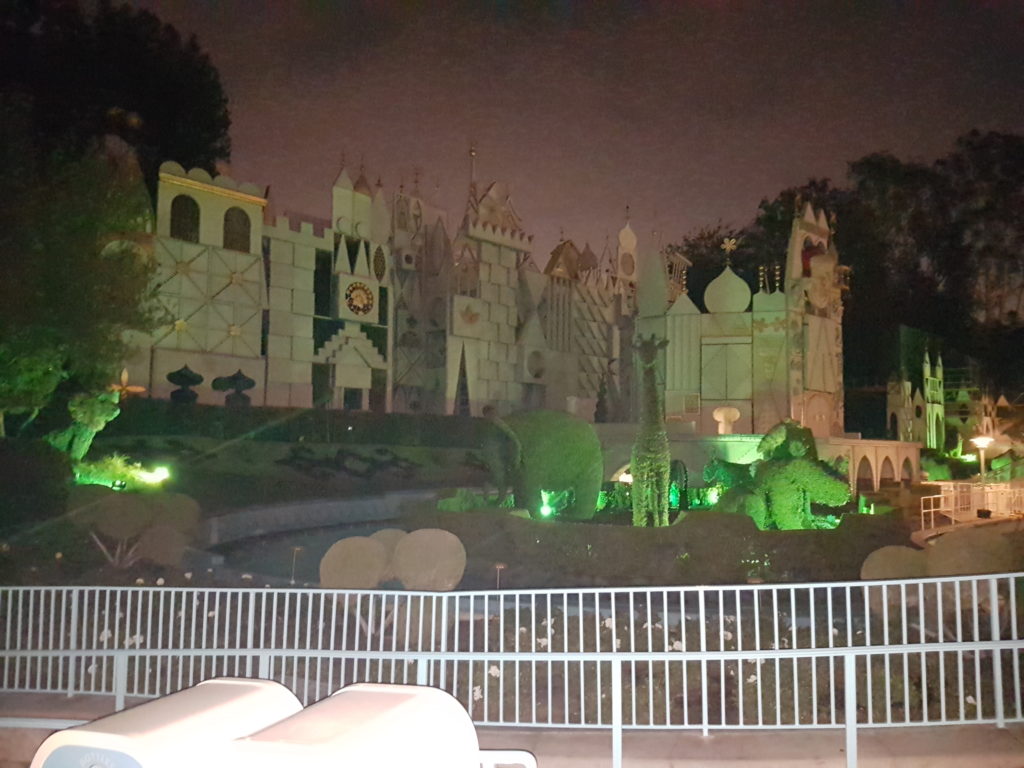 We arrived late afternoon on Monday, with three-day park-hopping passes that would allow us to Disney our hearts out until Wednesday. So while I had other things I wanted to tackle in Metropolitan LA, Monday until Wednesday were devoted to Disney. And also, as it turned out, the following Sunday, when it became obvious to me that getting anywhere else from Anaheim and doing something there would easily be as expensive if not moreso than just going back to Disneyland.
I could attempt a blow-by-blow summary of our visit, but instead, here's what we're gonna do. I'm going to walk you through the rides we hit along the way, ranked in order of how badly they need an upgrade, least to most. And where there are stories, there'll be stories.
Haunted Mansion
Okay this one's probably cheating. Because while Disney was celebrating Halloween, the entire Haunted Mansion ride was remodeled into The Nightmare Before Christmas, which was awesome because I love that movie. Dara… didn't get the reference, but this ride typically had the second longest lines of anything in either Disneyland or the California Adventure (after that Cars ride that we didn't go on due to long lines, with Space Mountain a competitive third), so clearly celebrating Nightmare's 25th anniversary by taking over the Mansion was the right call.
And while a Left 4 Dead Disneyland mod had had me nostalgic for the classic ride, it was a thrill seeing so many familiar faces brought to crude, animatronic life.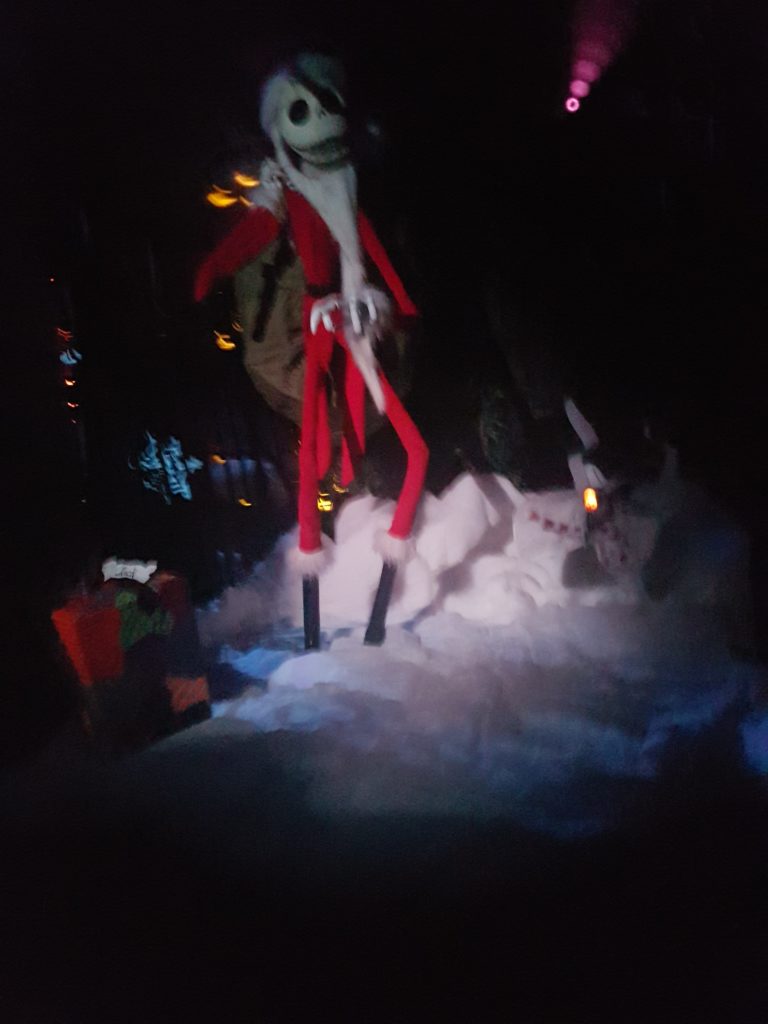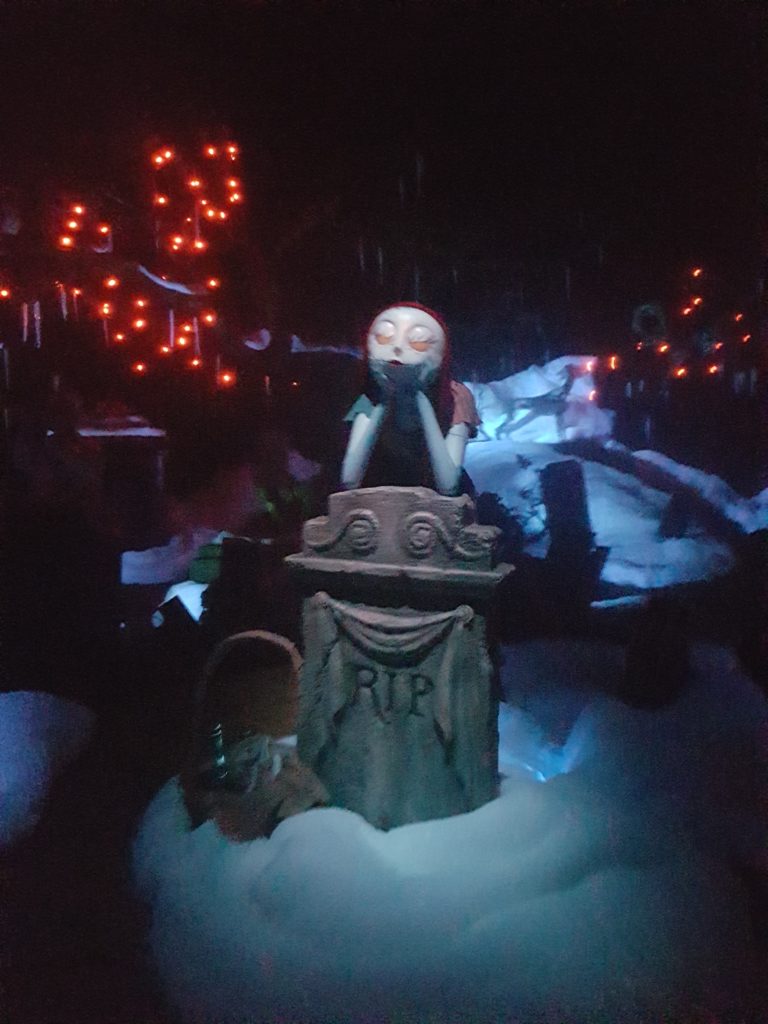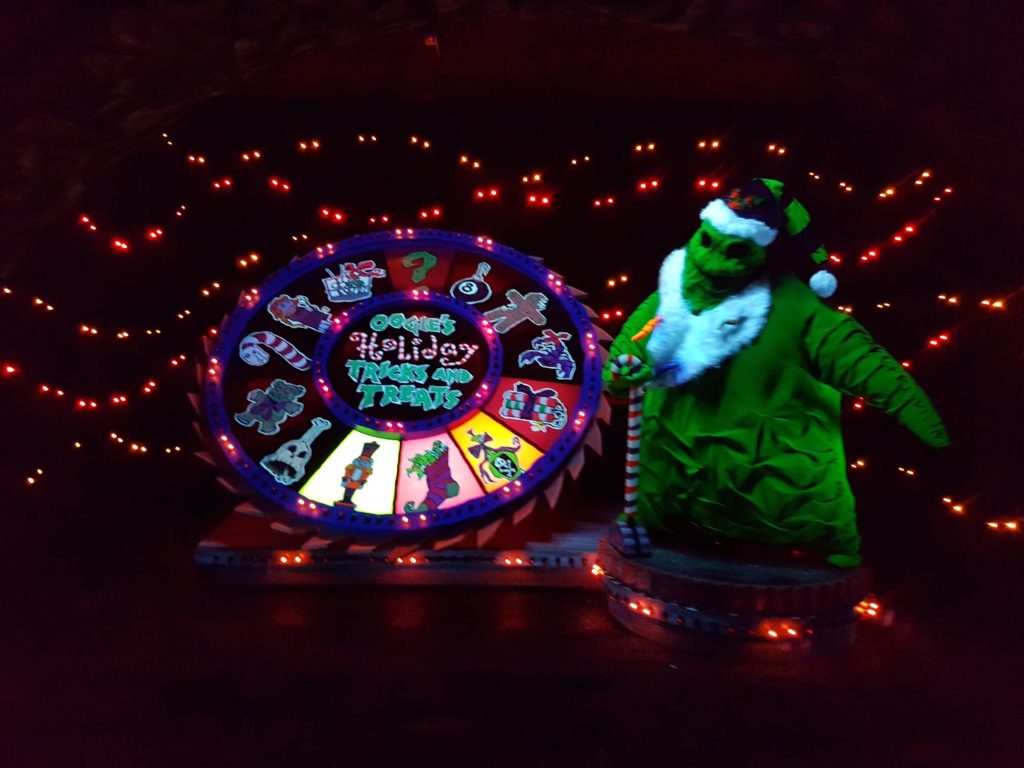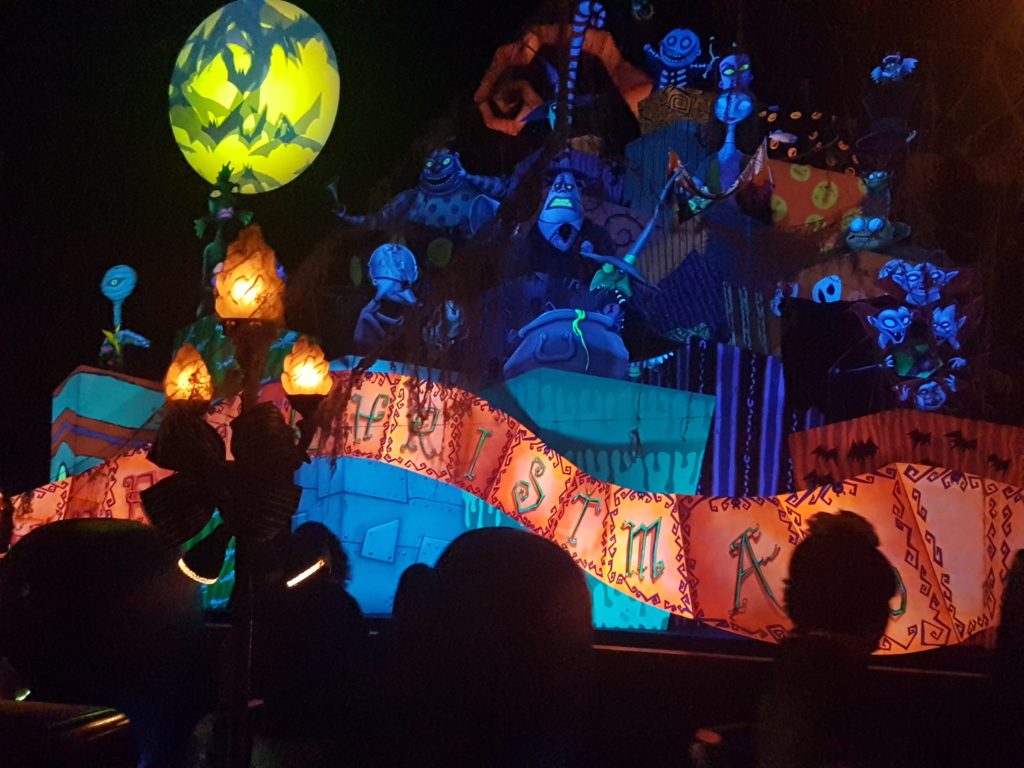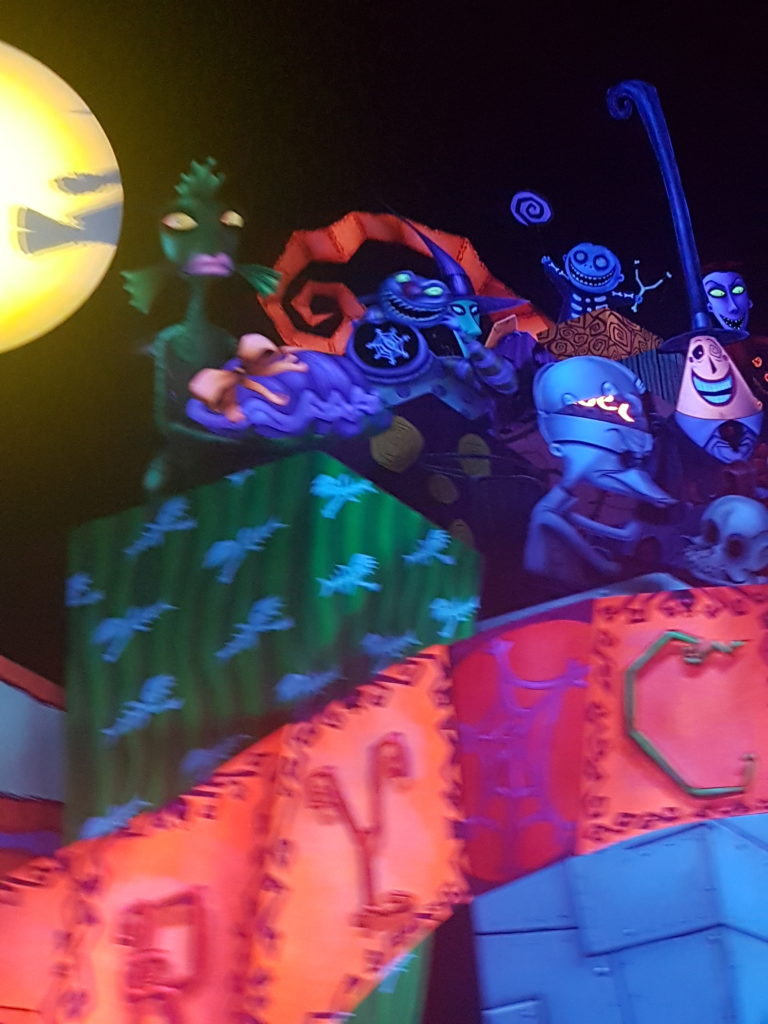 So I would say "No update needed." And frankly the ghost effects they hadn't changed basically hold up. So… no need for an update, shame they've probably changed it back. Or will after Christmas probably? I don't actually know.
Side story… since Halloween was approaching, and both parks were celebrating it, the all-seeing eyes of Disney Security laid down arms on the whole "no costumes" rule. So it was like being at Disneyland and Comic Expo all at once. Super neat.
No I don't have pictures. Don't take cosplayers' photos without their consent. Comic Expo 101.
Huh? Well why didn't YOU just ask them for a photo, if you're so damn smart? Moving on.
The Incredicoaster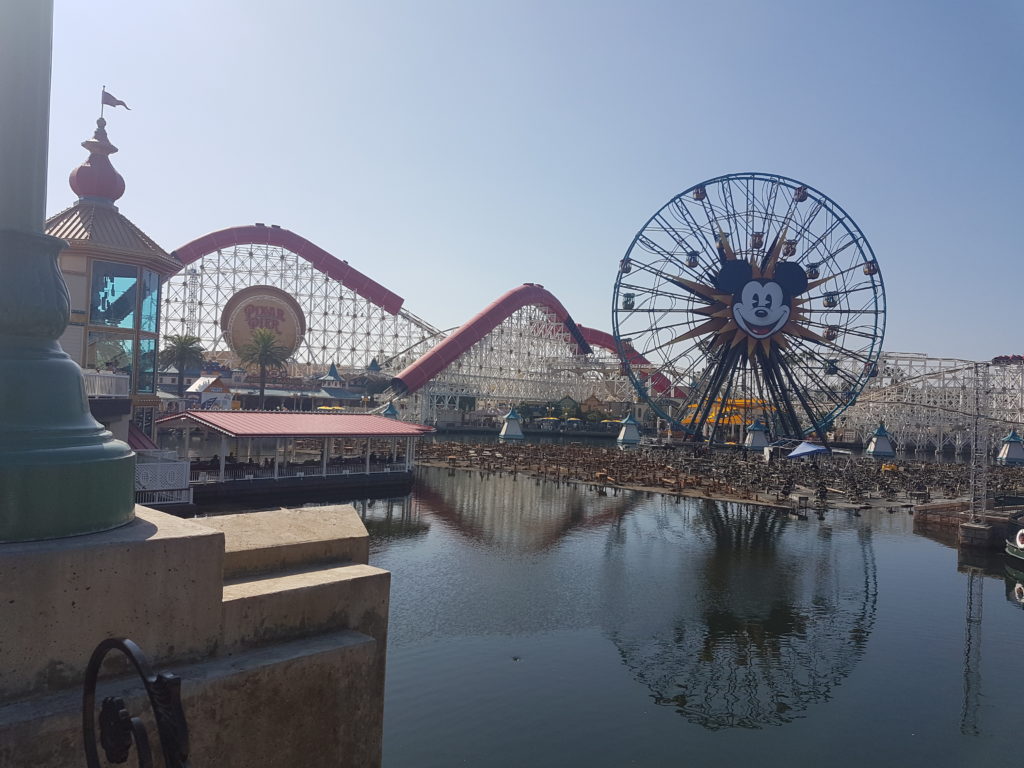 Located on Pixar Pier, one of their attempts to jazz up the less-popular California Adventure park, the Incredicoaster is one of the more thrilling rides in either side of Greater Metropolitan Disneyland, themed after the Incredibles franchise. It's another ride that I suspect just received an upgrade, based on how much Incredibles 2 there was in it, and one of the two rides visible from our hotel just outside park grounds. The premise, because we're in Disneyland so rides need a premise, is that baby Jack-Jack has gotten loose and the entire Parr/Incredibles family is out to catch him. The coaster goes through a series of tunnels, each of which contains a few Incredibles statues, with voice-overs from the cast playing through the back of your seat.
It's a fun experience, and the only ride in either park where you end up upside-down, and Dara loved it. My only real uncle-failing in those three days was not going with her a second time, wanting instead to head back to Disneyland proper for Indiana Jones and maybe another go-round on Haunted Mansion. I don't know, maybe the next window for Fast Passes* on the Incredicoaster was too far away. Pixar Pier is trying its best but there's only so much to do there while waiting for your Fast Pass window.
Anyway, the Incredicoaster is basically perfect, change nothing.
*Those wanting to skip longer lines for the more popular marquee rides can get Fast Passes, but they're for specific times, they only give out so many per time slot, and after you've gotten one they make you wait a while before you can get another. A decent way to make shorter lines possible for all without making the express line as long and slow as the regular line.
Guardians of the Galaxy: Mission Breakout
I suspect this was formerly the Tower of Terror, but has now been re-modeled into the Guardians of the Galaxy, likely as a first step into reclaiming Marvel-based rides from Universal Studios Orlando. Stark Industries fences surrounding the area behind this ride imply more might be on the way.
Anyhoo, on a visit to the collection of Taneleer Tivan, an animatronic Rocket Racoon enlists our "aid" in springing the rest of the Guardians from their display cases, which we saw in a video featuring the full cast (save for Mantis or Nebula and whatnot) that played in the lineup area.
This is my one complaint about this ride. The lineup area was so entertaining that it was the only time that week I felt a lineup went too fast. I kept not noticing it had moved because I was watching the video or getting a photo of an Ultron drone.
The ride boils down to being flung up an elevator shaft to a video of the Guardians, then dropped, then repeat a few times, also once instead of the video it was a camera for a souvenir photo. Pretty fun, though Dara enjoyed it somewhat more than me and much, much more than her grandmother.
Nothing to change here.
Star Tours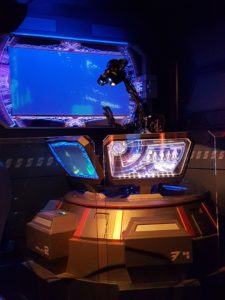 Before this trip I had only ridden Star Tours in French. My first trip to Disneyland it didn't exist. My second trip was three days before it opened. My third… must have been closed for repairs? July hardly seems like the time for ride maintenance, but I know for a fact that until last month I'd only ridden Star Tours at Eurodisney, where an excitable French droid flew us through a few familiar sights and into the trench of the Death Star. I knew enough french at the time to follow what he was saying (he assured us that it was okay to be nervous on your first Star Tour flight, because hey, it was his first time too), but it wasn't the same. And so on day two I stayed in the park after everyone else had left for the hotel because I knew on day three we were at least opening with California Adventure and by God I was riding Star Tours in English.
Was the ride always "flown" by C-3PO and R2-D2? I don't know. I only know that in 1994, outside of Paris, it was some French droid.
Anyway, I was briefed by friends back home that Star Tours now has a variety of locations that shift from ride to ride, so despite thinking it was still out of date (my first ride took us to Hoth circa Empire Strikes Back and Coruscant circa Revenge of the Sith, which is already an update from the 90s), later rides hit scenes and featured characters from both Force Awakens and The Last Jedi… which no doubt angers the worst kind of Star Wars fan but screw them. Toxic fandoms are why we can't have nice things.
Sorry, got distracted… ride's great, change nothing.
Big Thunder Mountain Railroad
It's fast, it's fun, it doesn't hinge on characters that aren't popular anymore, what's not to like? Dara loved it and so did I.
Finding Nemo Submarine Voyage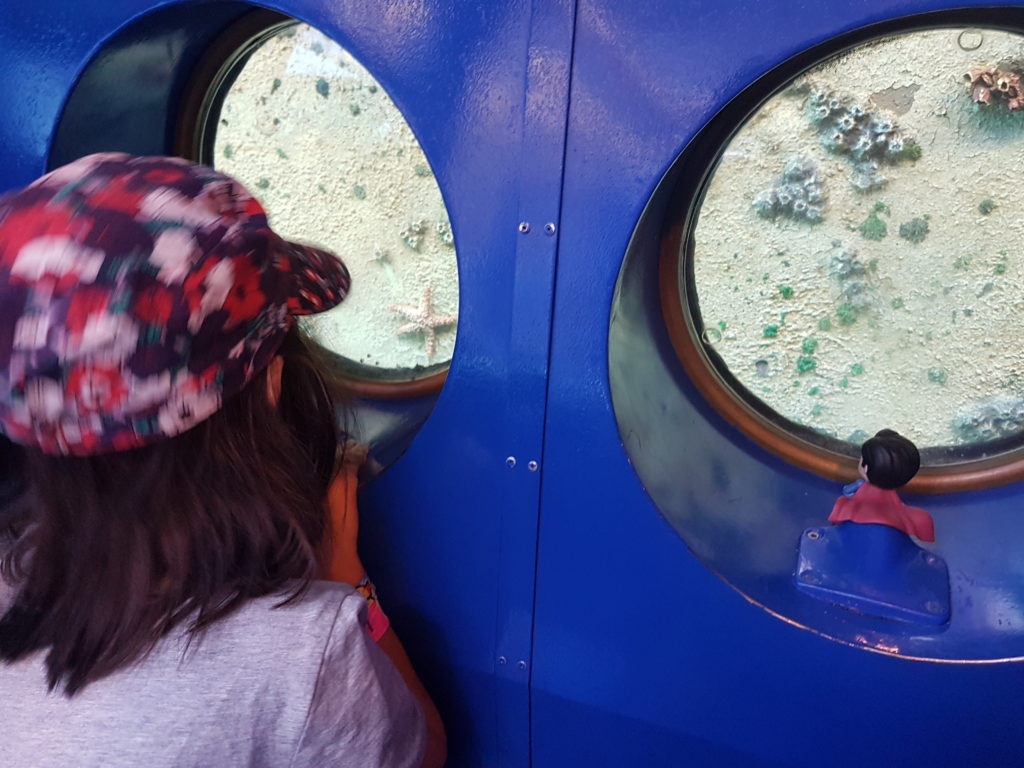 As our second day of Disney began (the first started in the late afternoon, since we all had to fly to LA and be driven to the far side of it from LAX before Disneying), we monorailed into Tomorrowland, where I was eager to settle a 35-year-old score. When I was a small child, I wanted to ride the 20,000 Leagues Under the Sea submarine ride, which had a giant squid in it, but my brother had gotten lost and to my great annoyance my parents insisted on finding their misplaced first born before we could go on any more rides.
So the first thing I pitched on day two was the submarine ride, which has already been upgraded. Instead of cruising past sea creatures and lost Atlantis maybe, the submarine now brings you through a hologram-filled summary of Finding Nemo. Which, yes, based only on how well Jungle Cruise holds up (it doesn't), is a distinct improvement over the old version.
Dara may not have been thoroughly impressed by the experience, especially since I don't believe she's seen Finding Nemo either. I suspect this because we got off the ride and she said to me "…That's the ride you wanted to go on twice?"
Still though… entertaining.
Space Mountain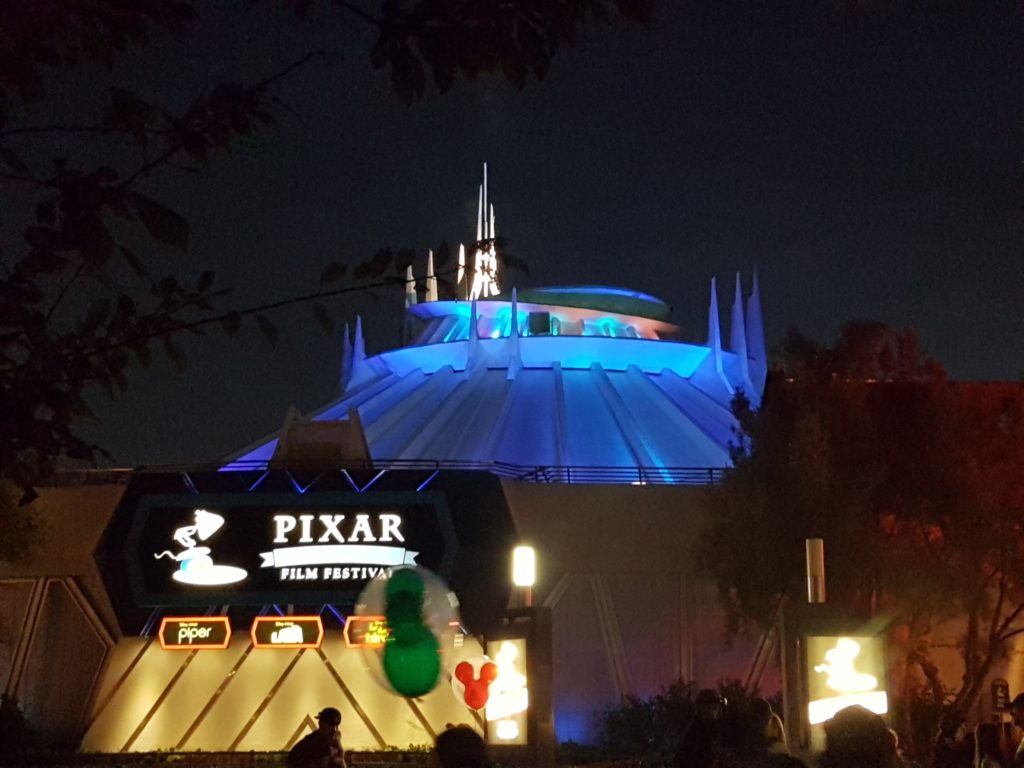 After the submarine ride, the plan was that Dara and I would check out the Matterhorn Bobsleds while my parents figured out Fast Passes and got us some for Haunted Mansion, then we'd all meet back in front of the submarines.
Well, the Matterhorn was also closed for refurbishment. Maybe it's getting a facelift, maybe it just needed maintenance before the holiday rush, I don't know. But we returned to Tomorrowland, to the agreed upon waiting spot. When we arrived I looked around, and thought.
"This is the spot," I said to Dara. "This is the exact spot I had to wait until Grandpa found your dad. Well. This won't do at all. Want to go on Space Mountain?" She did, so we did.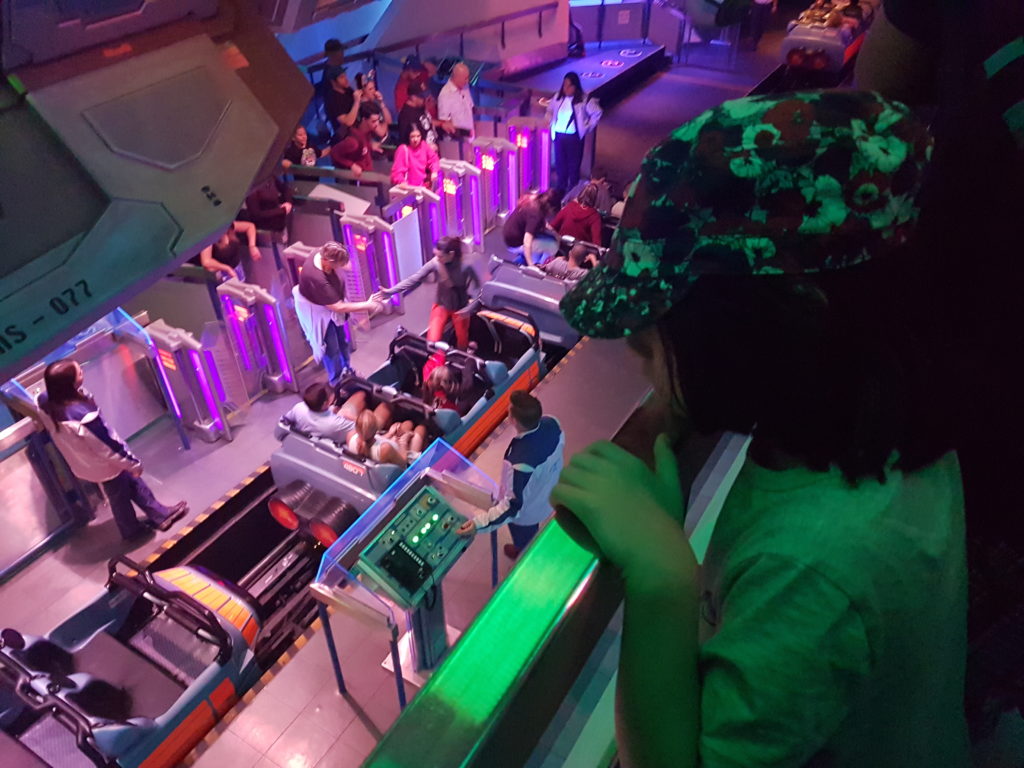 It was one of her favourites. Sure, they'd added some spooky space ghost videos along the way to Halloween it up into Space Mountain: Ghost Galaxy, but it would still be fun without them. This one Dara got to do again, and was not having any protests from her grandparents about not joining us.
I could have put this over Finding Nemo Submarine but the stories flow better this way.
Buzz Lightyear Astro Blasters
It might not be fast but you get to shoot things.
You get a car you can spin around, and lasers to fire at Buzz Lightyear's nemeses. Dara and I did it twice at least, and I tried to beat my high score each time. She didn't notice or at least chose not to comment on the fact that I was much better at shooting targets.
Frankly, I feel that their score chart has some unrealistic numbers on it. I shot targets like a mo'fo' and sometimes the ride stopped but you could keep shooting, but still only made it to the third ranking. I call shenanigans.
I guess if you rode it enough to know where all of the highest scoring targets are you could get higher. I feel that takes devotion.
Indiana Jones Adventure
Various safety signs and the video featuring a John Rhys-Davies impersonator claimed this was a ride like nothing we'd experienced. Okay. Maybe in the early 90s, when it debuted, but that claim has gotten less credible.
I swear this one used to be a multi-track ride, where there were multiple ways it could go. Not so now. I could see there was only one track.
It's fast and fairly fun, sure. In the 90s they must have known they'd have to move past slow rides where you drift past recognizable characters (or pirates or ghosts) in order to keep up with Six Flags and the increasingly aggressive push into the theme park business from Universal Studios.
Dara didn't care for it, though. She kept her head down because the safety video said not to look at the eyes of the big idol and she took that very seriously. Also there were a few sections where it was just dark and kind of slow, and when I went back on my solo Sunday trip I confirmed that in at least one case it was from something not working. Specifically the giant boulder missed its cue. Should have just taken her on the Incredicoaster again.
This one doesn't need an update so much as some repairs and maybe fewer dark corridors.
Winnie the Pooh, Alice in Wonderland, that stuff
A car takes you through a series of animatronics based on a popular Disney story. There's a bunch of them. None of them have Fast Passes as far as I know. They're fine. Dara went on the 100 Acre Wood ride twice in a row, so clearly the kids still like them.
Soarin' Around the World
You get on a big bench that raises into the air, then watch an IMAX video of swooping past or over famous landmarks from around the world, ending quite coincidentally at Disneyland of all places.
It's… fine. A little overhyped but not boring. Don't exactly know what they could do to improve it, short of Star Tours-ing it somehow.
Also don't know why Patrick Warburton does the safety video, but there he is.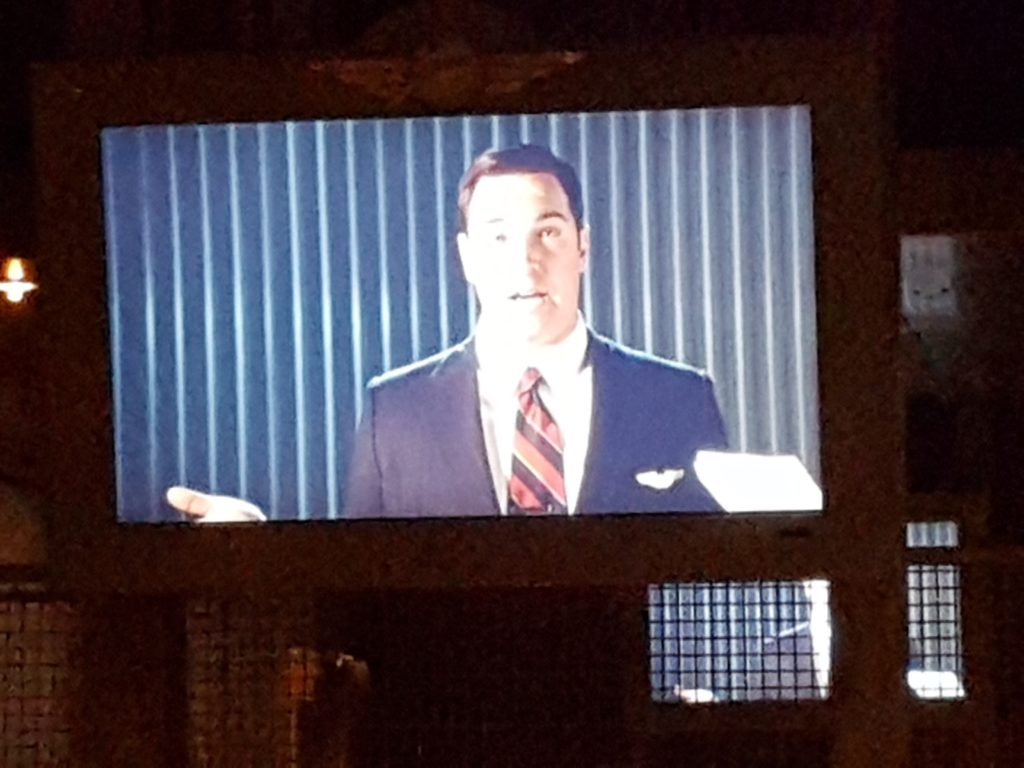 Pirates of the Caribbean
Now we get into the old-and-busted, people.
This ride has changed twice since I saw it last. First, I'm positive all the dead-pirate stuff used to be at the end of the ride. Like, the pirates looted and pillaged and, yes, used to be kinda rapey, and then they all died and we had a bunch of skeleton pirates pantomiming pirate life or just near treasure. Now the skeletons are all at the front. So the people in the restaurant that overlooks the start of the ride might have to listen to the booming voice saying "Dead men tell no tales" more often than the Geneva Convention should allow.
Second, the pirate voice-overs have been changed so that pirates occasionally utter complaints about or threats against Captain Jack Sparrow. And, yes, there is at least one, possibly more, robot Jack Sparrows scattered around, most notably one at the very end of the ride sitting on a pie of treasure and giving C-grade Sparrow monologues.
The issue is, they don't want to replace all of the decades-old pirate robots for a more modern kind of animatronic… if such a thing exists… so the Jacks Sparrow are all designed to look just as old and jerky as the rest of the pirates.
Has this affected the popularity of this ride, based around drifting past pirates not lifelike enough to even approach the uncanny valley? Well, the line was rarely over 30 minutes and it wasn't eligible for Fast Passes, so you tell me. It's clearly beneath Splash Mountain or Big Thunder Mountain… all the mountains, really…and instead on par with Peter Pan's Flight and Alice in Wonderland.
And Dara didn't care for this one at all. Can't say I blame her. The pirate ship battling a fortress was pretty cool, with the Barbosa-looking captain at the helm (I suspect Geoffrey Rush was made up to resemble this robot, rather than vice versa), but this was the one time I rolled my eyes at the tacked-on Jack Sparrow references.
You are in a cannon fight with a fortress, dude. Maybe Jack Sparrow's location and current schemes aren't your biggest problem right now.
I'm as shocked as anyone that Pirates of the Caribbean is still a movie franchise, but it is, so maybe this ride could use an overhaul to be a little more exciting.
Jungle Cruise
Soon to be a movie starring DwayneTheRock Johnson (just "Dwayne" if you're feeling familiar), I suspect this one might be due for an upgrade… but based on how little Pirates of the Caribbean changed, I'm probably wrong.
The problem here is that the fifty year-old animatronic animals aren't as impressive as they were when the park opened, and there is no getting around this. They're statues that move slightly, and that is not competing with Harry Potter and the Forbidden Journey over at Universal. So their method of making the ride more entertaining for attendees is to give the guides a series of jokes to tell along the route. Example… when we passed under a stone arch, our guide said this:
"Does anyone know what these two things that hold up the arch are called? Yeah, I don't know what you column either."
Stuff like that.
So it could probably use a new take. I worry that moving it away from "Slowly drift past robots older than disco" might be too much effort.
Splash Mountain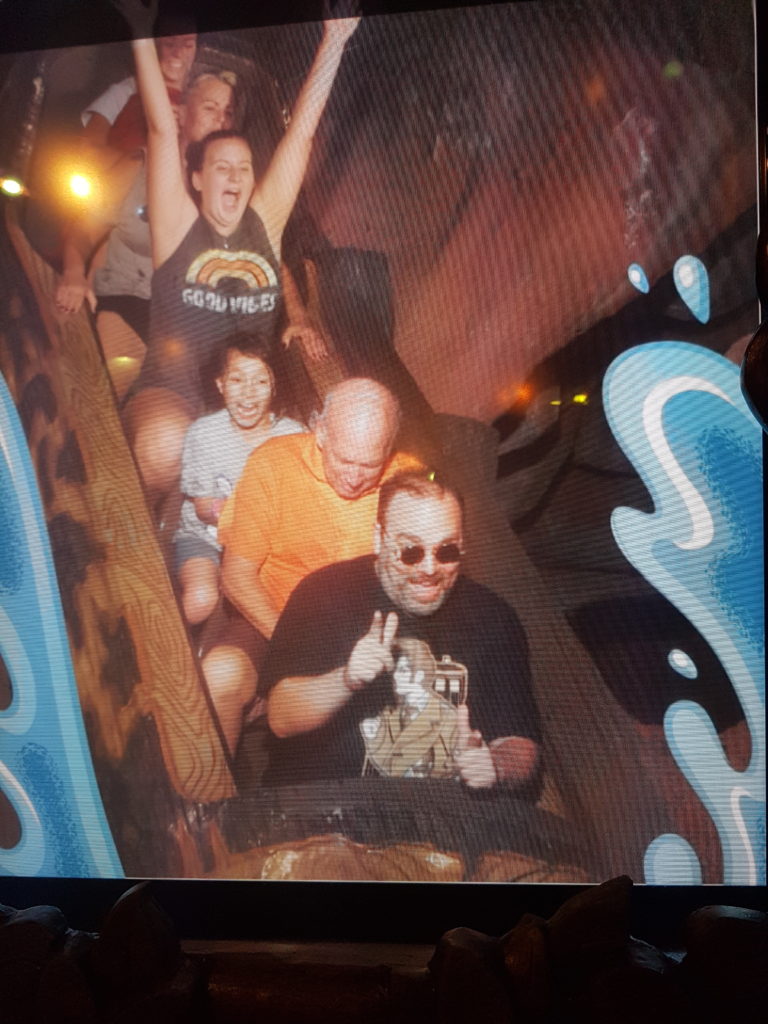 Okay. So. Splash Mountain. Where it seemed my job was to act as human shield between Dara and the titular splashes. I got very wet. She did not. So it seems she got her way on that one.
It's an institution, clearly, so you can't just get rid of it, but the problem, right, the problem is that in between splash descents, it's all Brer Rabbit scenes. Brer Rabbit hasn't been a thing in so long that even I can't name most of what's happening on this ride. Shenanigans from a movie that they've hidden from the public since the Reagan administration.
Maybe having a ride partially based on a movie they won't even put out on video anymore isn't the best plan? This one has clearly been coasting on the splashing.
Yes Dara liked Splash Mountain. But did she like the ride, or did she like the fact that Granpa and Uncle Dan got very, very wet? Because I suspect the latter.
Overall, though, Disneyland sure has its charms. Yes, the streetcar that made its way through the California Adventure playing "California Here We Come" over and over seemed like an unendurable hellscape for the poor staffers who had to ride it and wave to people, but the band on Pixar Pier that played upbeat versions of songs from Pixar movies (including this old favourite) was fun. Sure not every ride is a thrillfest, but the ones that are don't hold back. And Dara certainly had a great time overall. In fact, she wants to go back soon, and when I heard that, I could only say…
"She wants to go back in July? She's mad. Mad, I tell you."
Next time… the nostalgia tour begins. Or continues? Not like Disneyland was free of nostalgia…