It's Thursday, things are slow, I'm listless and a little agitated. This would be a perfect time to lose myself in another hilarious and slightly heartbreaking episode of Bojack Horseman, My New Favourite Thing… only I've run out. There are no more. Not until next year. And I don't seem to have the attention span for much else.
So let's chat, you and I. Let's pass some time on these here interwebs by discussing things that wouldn't fill a full blog. Which might be difficult because apparently I had 2,000 words' worth of things to say about the new Sin City movie, when "Two hours of sub-par to terrible Sin City fan fiction" would have summed it up.
But this will spare all of you from getting an earful about Bojack Horseman. It's hilarious, it's got a surprising amount of heart and emotion in the back half of the season, Will Arnett and Alison Brie are both in it, just go watch it already.
New Doctor!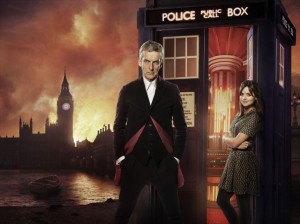 Part of loving Doctor Who is learning to accept new Doctors, even if you're not ready to. I was just a kid when I heard that Tom Baker was leaving. I was taken completely by surprise when Colin Baker changed into Sylvester McCoy (despite it having been a rerun… this was pre-internet, there weren't easy ways to learn these things). I was heartbroken when I learned Christopher Eccleston was only doing one season… and those were the easy ones. I may have actually screamed "NNNOOOOO!" out loud when word got out that Matt Smith was moving on.
But now the new guy, Peter Capaldi, aka. Twelve, has had two episodes to establish himself. And I think he's doing okay. He has a sterner style, which sets him apart from Ten and Eleven. He wants to be a good man, but isn't sure he is (something he has in common with Bojack Horseman–sorry, sorry, it just slipped out). And Clara's finally getting more to do, after the whole Impossible Girl story kind of prevented her from being properly developed. All in all, Capaldi's crushing it, and they still have my devotion.
But I haven't figured out his theme music yet.
Not the opening credit theme, of course I know that. The in-episode theme music. Nine had The Doctor's Theme, Ten started with that, then switched to The Doctor Forever in season three before returning to an amped up Doctor's Theme in season four. The Doctor's Theme played for the last time (well, until the 50th anniversary) in Ten's final moments, and when Eleven began his tenure in the 11th Hour, so too debuted I Am the Doctor, which later evolved into The Majestic Tale (of a Madman in a Box). And as someone who clearly thinks about background music in TV shows a lot, those two were my favourites.
I don't know the 12th Doctor's theme yet. Sure, there's some Youtube videos claiming to have it, but I need to hear it in action. I need to hear it against the Doctor telling the Atraxi to run, or facing down the Silence alongside River Song and the Ponds. I probably have, I just haven't figured out what it is. Guess I should rewatch Deep Breath and Into the Dalek when I get a chance.
There are worse fates.
Shazam's getting a movie!
This has been running around the web for a while, but the rumours and suggestions have finally been confirmed: Dwayne "The Rock" Johnson will be playing Black Adam in an upcoming Shazam movie.
Seeing a lot of blank looks out there. What? You didn't know reading my blog activates a camera in your computer/phone? I am always watching.
Erm… by which I mean, what, you don't know Black Adam? Let me explain.
When I say the word "Shazam," you think of Captain Marvel: a kid named Billy Batson who shouts the word "Shazam" and turns into an adult with magical powers that make him a nigh-equal to Superman. Black Adam had the powers of Shazam centuries earlier, but his more… forceful way of defending his home nation of Khandaq (think ancient Egypt turned into modern day Iraq) got him shut down by the wizard who made him his champion (that wizard being Shazam). But when Captain Marvel comes onto the scene, Black Adam finds a way to come back. So, Captain Marvel is the kid-turned-hero, and Black Adam is his nemesis.
That's the classic stuff. Fast forward to today. Now Billy Batson's alter ego is just called "Shazam," because DC got tired of never being able to put "Captain Marvel" on the cover of a book thanks to their competitors, and decided that if everybody mostly knows him as the Shazam guy, they may as well call him Shazam and be done with it. I still haven't fully adapted to that but it's happened.
Black Adam, meanwhile, is still a primary nemesis of Captain Mar–Shazam, but he's not always a straight up villain. While writing Justice Society back around the turn of the century, Geoff Johns altered the character: no longer was he a modern day thief who accessed the powers of Shazam to become Black Adam, but was instead the original reborn in the modern era. And the original never saw himself as a villain, simply the protector of the Khandaq who draws a different moral line than some prefer. In the last fifteen years he's crossed the line to hero almost as often as he's been a villain. He served in the Justice Society for years, possibly outlasting Captain Marvel*. Most recently, in the event book Forever Evil, when the Crime Syndicate (an evil version of the Justice League, I'll spare you the explanation) wiped out most of the superheroes and conquered the Earth, Black Adam was the first of a small band of villains to step up and try to bring them down.
So Black Adam isn't a mustache-twirling, magic-space-rock-wielding world conqueror like so many other superhero movie villains lately, and talk from Dwayne Johnson and the studio is that they're going to keep him on that blurry line between villain and anti-hero, which I for one am excited to see.
Less excited by the rumours that Shazam will not connect with Justice League, but… well, we'll see.
*Interesting story with no connection to Black Adam: Captain Marvel left the JSA in disgrace after his budding romance with teenage hero Stargirl (who had discovered that he was actually a teenager himself) was discovered by either the golden age Flash or Green Lantern, who, not knowing that Captain Marvel was really teenager Billy Batson, obviously disapproved. Cap left the team rather than reveal his true identity/age, because "too many people know, and it always changes things." Sad story, but interesting reading. Anyhoo.
Supergirl back on TV?
New in the rumour mill: DC may be shopping around a Supergirl TV series. Now, this is a very young rumour, and even if it is totally accurate, a lot can go wrong between here and being given a series order, if two failed pilots for Wonder Woman and one for Aquaman teach us anything. But I like the idea. There is a risk that, even though the CW is currently believed to have passed, the makers might embrace the teen soap opera that defined Smallville and remains a part of Arrow. But you know what? Let 'em. As I said in an earlier post, Supergirl (well, Kara Zor-El) has never been better written than when they were targeting her towards younger women/girls. So I say, even in the face of ten years of Smallville striving to prove me wrong, it can work. But maybe try to make it more like Arrow and less like Smallville. In fact, always do that.
But making it appeal to girls without becoming female-oriented-Smallville, or Gossip Girl with super strength, is only challenge one. Well, challenge two, after getting a network to bite.
Next challenge: is this another stand-alone like Constantine? Or will they tie it into one of their other properties? And that's a trickier question than I like. Because I don't know that I want a Supergirl series set in a world where Superman doesn't exist.
Don't get me wrong: Supergirl's been around long enough that she deserves an identity of her own, rather than being defined as "Superman's cousin." The current writers of her book are trying, but her more famous relative is never that far from her narrative. A weekly series (or Netflix series) might give her the chance to be her own character as well. So I'm not saying I need Henry Cavill to pop by on a regular basis, but… Superman should still exist. Putting each character in their own box, where no other DC character is allowed to be, is something I'd hoped DC was moving past.
So that means I also don't want Supergirl to join the Arrowverse, something that feels alien to say. But it's true, for the same reason I don't want Nightwing showing up: for all the characters that they're adding to the Arrowverse, Superman and Batman aren't on the list, and Nightwing without Batman doesn't even make sense. Ra's Al Ghul, okay, fine, he can exist without overt references to Batman, but not Nightwing. Why not use any other similar character, like Blue Beetle or the Question or Manhunter? Oh, right, they are using Manhunter… no not the Martian one, one of the other 20 DC characters named "Manhunter."
Right, sorry, Supergirl. There may be super powers in the Arrowverse now, thanks to the Flash, but no aliens. And if we're going to add Kryptonians, let's start with the big guy. Or if you want a Supergirl type, introduce Wonder Woman, or Hawkwoman, or Big Barda–no, no, bad call me, you do NOT want Apocalypse and the New Gods on TV, you want them in the Justice League movies. That last bit might not have made sense to you. But you're reading this on the internet, and I assume you know how Google works. Must I hyperlink everything?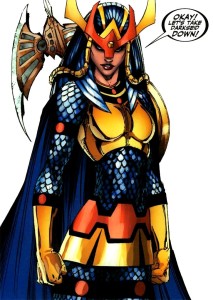 Anyway. A Supergirl TV series that ties into Man of Steel and Superman V. Batman: Dawn of A Thousand Internet Complaints may be too much to hope for. But a Supergirl series where Superman is nowhere to be seen is like, I don't know, making a TV series about Batman's daughter where Alfred is a main character but Batman himself is never seen or heard from.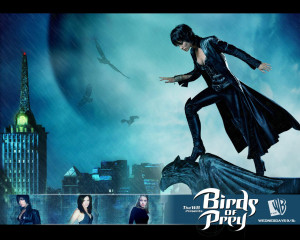 The New Pornographers have a new album!
Finally… if you can listen to this without feeling at least a little happy, I feel sad for you.
Until next time, have a good day and WATCH BOJACK HORSEMAN.