Okay, nerds, nerdesses, and innocent bystanders just stopping by, it's time for the big game. The epic battle between good and evil, the superhero team-up I've been waiting months to see play out in all of its four-colour glory.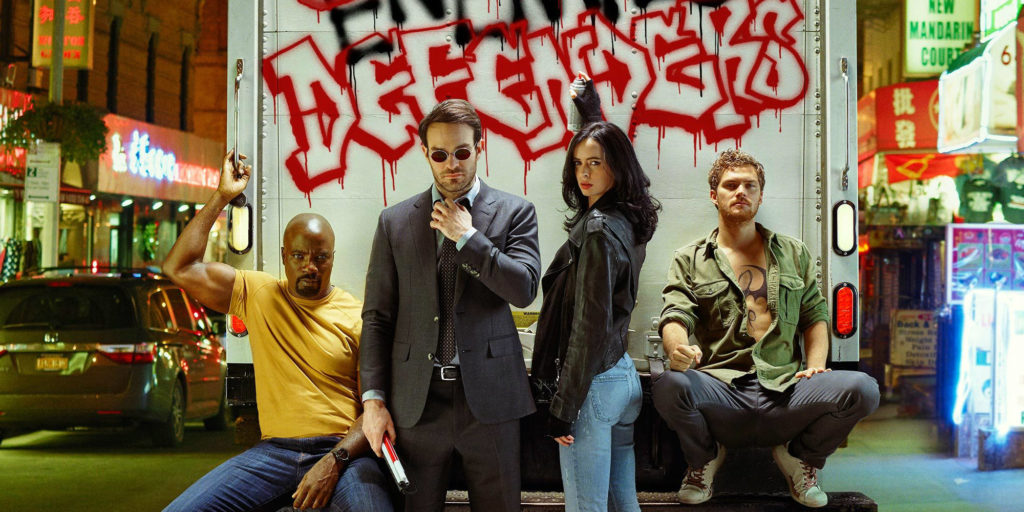 No. I said "superhero," "colour," and "glory." Not four people trying their very hardest not to be superheroes in a show about a ninja cult harvesting dragon marrow that somehow still manages to drain both of those concepts of fun or interest. No. Think brighter. Think DC.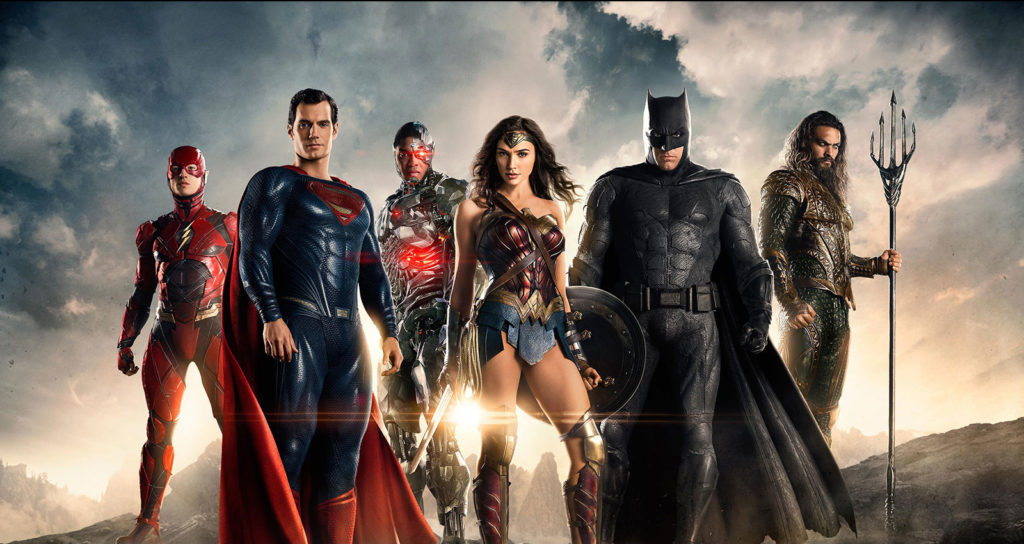 What? No. No no no. Not that one. This one. The good one.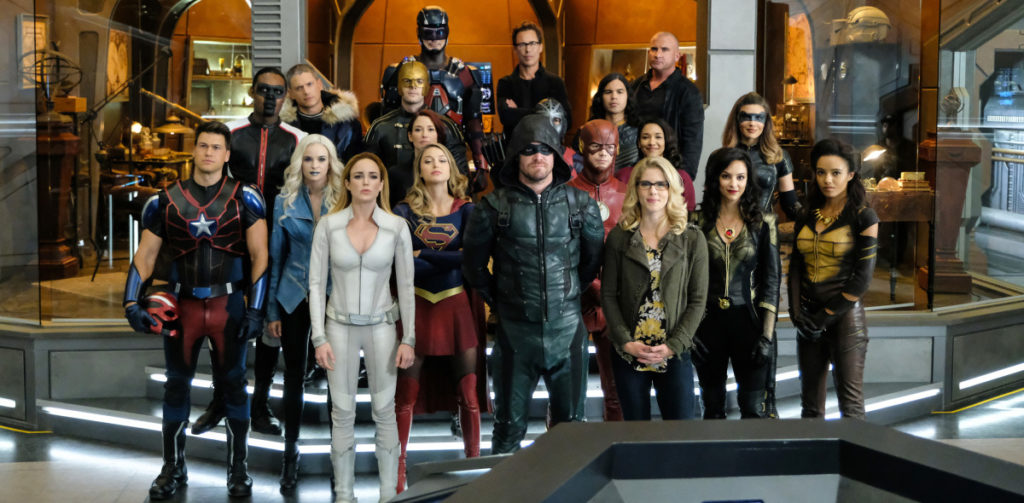 Crisis on Earth-X, the biggest, most ambitious, and best of the annual Arrowverse (sadly I am still not influential enough to make "DCW-verse" catch on) crossovers has arrived, and did it ever–
Look, what do you want me to say about Justice League, exactly? We all must know the general consensus by now. It's… fine. Fun but shallow. Enjoyable but occasionally forgettable. Forty minutes' worth of footage was cut and it kind of shows, and not entirely from the fact that every trailer has a moment that got cut from the movie. The action scenes are often gorgeously shot, including an acrobatic duel between Batman and a burglar that might be one of the best-shot Batman action scenes ever… fine, not counting anything Lego-related… and it certainly tries to be more fun, but while many of the jokes land, sometimes it's trying too hard to be "quippy."
I wanted it to be Wonder Woman good, and instead it's somewhere between Ant-Man and Age of Ultron. It's a B- superhero movie that had the misfortune of coming out in a year when the genre was averaging A-. Logan, Wonder Woman, even Thor Ragnarok of all goddamn things, these were all home runs, improbable ones given the lower success rate of X-Men movies, the DCEU, and movies about Thor. And Guardians of the Galaxy Vol. 2 and Spider-Man: Homecoming weren't entirely knockouts but had more than enough charm to smooth out their flaws. 
But enough about that. Not here to talk Justice League. Just Crisis on Earth-X. Just that. Probably just that. Almost definitely maybe probably just Crisis.
Evolution of an Event
The annual CW crossovers have been a tradition as long as there have been multiple DC shows on the network. Longer, really, since Barry Allen made his debut on Arrow the season before The Flash debuted, around the same time of year the crossovers normally happen.
First they were simple. A handful of Arrow characters went to Central City for Flash Vs. Arrow, so that the two CW leads could go two rounds against each other before bringing down meta-human bank robber Roy G. Bivolo, known to comics fans as either "Prism," "Rainbow Raider," or "the guy once deemed too lame for a crossover that introduced amped-up versions of Major Disaster and Killer goddamn Moth." A day or two later (real time), a handful of Flash characters headed to Starling City so that Flash and the Arrow could team up against Rogues' Gallery Also-ran Captain Boomerang. Simple, self-contained, fits easily into a marathon binge of either show, but had the fun of seeing the different casts and show styles bounce off each other.
That was the fun of Avengers, wasn't it? Seeing Iron Man, Thor, Captain America and whatnot all flow into one team. Which is what Justice League could have been, except they've been trying to reinvent their tone so much that it's hard to actually see it as a continuation of the previous four movies. Sure, it has references to Wonder Woman and continues stories from Man of Steel and Batman V Superman but it doesn't have that Avengers-style-the-franchise-comes-together special feel, you know? Not like Crisis on Earth-X. Which is what this blog is about. Crisis on Earth-X. Not Justice League.
Ahem.
They amplified the crossover the following year, with Legends of Yesterday and Legends of Today, which set up the centuries-long Hawks Vs. Vandal Savage relationship that was central to the coming third DCW show, Legends of Tomorrow. Sure that one was held back by the same problems that plagued all the CW shows that season: too much narrative capital devoted to setting up the new spin-off, and an unsatisfying take on Vandal Savage, but it was still a fun two-parter. And the year after that, things got epic, as Flash, Arrow, and Legends came together (with special guest star Supergirl, whose own show wasn't really involved) for the three-night, super fun, heroes vs. aliens extravaganza of Invasion! Watching Kara get to know Oliver Queen and the Waverider crew, and seeing everyone have a big post-victory party was just as much fun as seeing the combined heroes take down the Dominators. Plus each chapter still felt like an episode of that particular show. Flash addressed Barry's Flashpoint screw-up, Arrow served as a perfect 100th episode celebration of the show's past, and Legends brought time travel into the mix.
So the question seemed clear… how the Hell would they top that? Well, they found a way, readers, they found a way.
Barry and Iris' wedding brings characters from all four shows to Central City, and it looks to be a happy day for all, but when the wedding is crashed by Nazi soldiers led by evil versions of Green Arrow and Supergirl, Team Arrow, Team Flash, the Legends, and the Danvers sisters have to square off with strange visitors from an evil planet.
The Faces of Evil
If one were to claim that the CW crossovers have flaws, one could argue that they have, in the past, let us down villain-wise. Vandal Savage, as discussed, was underwhelming, and a cameo by Neal McDonough's Damien Darhk really drove that home. Prism was… well, Prism was a half-assed take on Rainbow Raider who existed to give Flash and Arrow an excuse to fight. And the Dominators provided some effective global menace, but they were a horde of CG aliens.
Fortunately their machinations meant that the plot never hinged on largely interchangeable CG aliens, and they had some concrete motives. Like in the event book that inspired it, they felt Earth's high rate of meta-human development was problematic. Could be worse. They could have been an entirely CG villain with a horde of faceless minions, a magic space rock, and a vague-at-best motivation to take over/destroy the world.
Which is the shade I used to throw at the weaker Marvel villains, at least the ones not out to kill Tony Stark and sell weapons. But man alive no one lived up to that terrible archetype like Steppenwolf. Making him all CG was awkward any time they showed his face, and if you haven't grown up on DC comics like me, who exactly this mook is and why he's doing anything he's doing might feel obscure at best.
Right, yes, Crisis on Earth-X. Earth-X, as any longtime DC fans knows, is the Earth where the Nazis won World War II, and are opposed by a small band of heroes known as Uncle Sam and the Freedom Fighters. Which essentially makes this a crossover between five shows, as Earth-X, the Freedom Fighters (possibly minus Uncle Sam), and the Reich's top warriors were introduced in the CW Seed show Freedom Fighters: The Ray.
Having Nazis as your villains, and depicting them as absolutely, irredeemably evil shouldn't be a big political statement, but it's 2017, the New York Times is running sympathetic stories on actual Nazis, and here we fucking are. So watching the heroes of four shows and an online animated series tear into some Nazi stormtroopers is incredibly satisfying.
But what's impressive is that they set out to create fully developed characters out of their main villains, making the Nazi Oliver Queen/Dark Arrow and his general Overgirl flesh-and-blood people without justifying their abhorrent beliefs. They're monsters, but they're still driven by love. Dark Oliver isn't just out to conquer a new world, he's out to save the love of his life. He and his followers believe that strength is virtue, that compassion is weakness, and that they're doing the world a favour by ruling it. They're wrong, and we know they're wrong, and the back half makes a very clear statement of "This is what Nazis do and it's terrible, are you listening, Republicans" but giving them human motives and emotions buried under the hate and intolerance makes them more interesting than, say, some rat-faced vet who lets vague talk about "real Americans" turn him into a mad bomber. Or a horn-headed CG alien named after a late 60s-70s rock band for reasons no rookie viewer will ever, ever know.
Back on topic… Also on team Nazi is an Earth-X Prometheus, who is not the Prometheus from last season of Arrow. He's got a surprising identity that gives Oliver a meaty scene when they come face to face.
Plus, the Reverse-Flash is back! Not some Nazi version from an alternate Earth, but the one we know from Flash and Legends of Tomorrow, who admits that he probably should be dead by now, but never seems to recognize the Legends, so maybe this is from before his Legion of Doom days? Anyway, he's back to looking like Tom Cavanaugh's Harrison Wells, which I suspect is a cost-saving measure. The crossover was already hell of expensive, and having Tom Cavanaugh do double-duty saves them paying for Matt Letscher. Also it's fun. Good as Tom is/has been as the Harrisons Wells of Earths 2 and 19, it's been too long since he's gotten to properly chew the scenery as the Reverse Flash. So as long as Stephen Amell and Melissa Benoist are pulling double duty, why not let Tom "Playing just one character on a show is for lazy people" Cavanaugh join in?
Our Heroes
Now these shows have big casts. Green Arrow leads a team of four other vigilantes, five if you count Felicity "Overwatch" Smoak. Flash has two part-time sidekicks and two superpowered assistants. Supergirl rolls with the Martian Manhunter and has Superman on speed dial, and the Legion of Superheroes just came to town. And the Legends are a full team of time-travelling would-be heroes. That's way too many people. So obviously not everyone gets to play all the time. Some characters get sidelined for one to three episodes, some get restricted to quick cameos. J'onn J'onz, for instance, gets maybe three lines in the first five minutes of part one.
It's like how Justice League tries to slip in cameos by various supporting characters of the heroes, to varying success. Connie Britton's return as Hippolyta makes for an impressive sequence; JK Simmons makes a great Commissioner Gordon in his two scenes; Billy Crudup does his best impression of John Wesley Shipp's Henry "Flash's Dad" Allen in a scene that does okay setting up Barry's character, but seriously feels lifted out of the first season of the TV show; Amber Heard gets handed much more ham-fisted exposition as Mera, but I'm still interested to see what she does with a proper role in Aquaman. I mean her scene was only a little more character-driven than Anthony Hopkins' voice-over narration at the start of the bad Thor movies. Meryl Streep couldn't have made "Here's who Aquaman is in twenty words or less" work much better.
And we're back… so while most of the shows' casts get at least a little screen time*, if not necessarily on their own show, Crisis on Earth-X focuses on a smaller team. Specifically, Kara and Alex from Supergirl, each nursing a heartache; Oliver and Felicity from Arrow; Barry and Iris from Flash (and to a lesser extent Caitlin… Tom Cavanaugh is there all the time, but mostly as Thawne, not Harry Wells); and Sara Lance, Jax, and Martin Stein from Legends (and to a lesser extent Heat Wave), as Sara's essentially the lead of Legends and the crossover helps wrap up a Firestorm arc that's been running through the season. And in the back half, The Ray turns up, alongside his cohort, the Earth-X Leonard Snart. Good to have you back, Wentworth Miller, if only temporarily.
Oliver's team and the rest of the Legends are mostly there to make the final heroes vs. Nazis showdown sufficiently epic. And sure, some arbitrary lines got drawn here. Sure, a solid entrance by Mr. Terrific, Wild Dog, and Black Canary was undercut by what happened afterwards. Sure, I wondered why Ray Palmer didn't get an invite to the wedding if Barry's former nemesis Heat Wave did. But that's okay, and I forgive all, because when The Atom finally makes his entrance, it is a stand-and-cheer moment, and the rest of the late-to-arrive Legends keep that momentum going. Plus then Team Arrow, Vibe, Killer Frost, and the Legends get to kick the stuffing out of Metallo and it is niiiiiice…
The finale of Justice League works that well too, especially one Superman joins the fray. Partially because Superman is finally the Superman we've been waiting for. And also the League refusing to let Batman make a sacrifice play is a nice moment as well. And yes, that one has more production value and is more spectacular, but while seeing the League come together to kick Parademon ass is fun, seeing a dozen or so heroes beating the tar out of Nazis is a pretty great finale as well.
*Regular characters getting the week off are Lena Luthor, Samantha "Reign" Arias, Black Siren, The Thinker, and Thea Queen. Sorry, my brain needs to list them, and here we are.
Emotional Impact
Past crossovers have just been fun adventures with no lasting consequences. Not negative ones, anyway. In fact, Invasion! is when Barry finally found forgiveness for all that Flashpointing, and the musical crossover fixed Barry and Iris and Kara and Mon-El's relationships… man, given how much work the seemingly all-powerful Music Meister put into getting Barry and Iris engaged, he surely was blasé about extra-dimensional Nazis crashing the wedding… no. No, leave it there, do not get into the weeds about Music Meister again.
But this… this isn't just a crossover. They invoked the name "Crisis." And that is not a word DC just throws around. When it's a Crisis, Earths are in peril and people die. Permanently, for decades, or just for a little while, controversial or forgettable, a Crisis has a body count. This one is no different.
Some crossovers try for this, but don't nail it. Think of Superman's death in Batman V Superman, and how it had no emotional impact at all. Maybe because you didn't like the movie at all so nothing did, or maybe because you know that come Justice League he'll be back. See also Defenders. [spoiler title='Yes, it's a spoiler' style='default' collapse_link='true']Matt Murdock sacrificing himself for the others meant basically nothing because Daredevil season three had already been announced. Daredevil's "death" was just a way to get him off the board for a while so we wouldn't ask where he was during Punisher.[/spoiler] But Crisis on Earth-X was playing for keeps. And it…
It hurt.
A lot.
I went from cheering to crying several times over the course of the final hour, and actually yelled "Don't do this to me" at the screen. A hero's death, dying so others can live, it might be noble… but it doesn't hurt much less in the moment.
Sorry. I thought I was ready to talk abut this. I was wrong.
This wasn't an issue in Justice League. They were going for hopeful, inspiring, and a sense of wanting to see these characters in their own solo movies. Guess we'll have to wait 13 months for Aquaman to see how well they managed that last one.
The Little Moments
Half the fun of these crossovers is watching characters from different series interact, and Crisis on Earth-X does not let us down. First and above all others, Sara Lance finally meets Supergirl's sister Alex, and it is everything I wanted and more, given that in a satisfyingly roundabout way, meeting Sara helps Alex move past her breakup with Maggie. They also make a fun duo kicking Nazi ass together.
Heat Wave meets Killer Frost, which is fun. I'd love to see those two get into trouble for an episode or two. Barry, Oliver, and Kara work together so well (Nazi or otherwise) that it's a shame they only get to do this once a year, twice at most. Eobard Thawne claims that at some point in his past/everyone else's future, he fought Superman. A tease, or a promise?
Of course there are missed opportunities as well. Just like how we never really spend a lot of time with Aquaman, Flash, or Cyborg outside of the group context in Justice League because of all that cut footage. For instance, we've never gotten to see how Sara "White Canary" Lance feels about her late sister's codename, Black Canary, going to newcomer Dinah Drake. They never interact at all, in fact. Also I haven't gotten a proper Detective Joe West/Detective Officer Captain Deputy Mayor Quentin Lance* team-up in over two years.
And there are questions. Lingering things that I require answers to, and in one case won't get them. The fact that the main Earth calls itself "Earth-1" and nobody calls them on it… when did the numbering of the Earths become a multiversal standard? What representative came to the Nazi world and said "You're not Earth-1, that's Earth-1, and you're Earth-X, and we're all going to pretend you don't exist when we're counting the total number of Earths if that's okay," and which super-Nazi said "Sure, that's fair, Earth-X it is?"
But more importantly, and in this case I do need an answer… are we just ignoring the fact that the overeager server who was offering Barry a sparkling water and gushing about being at the wedding… that was clearly Barry and Iris' daughter or granddaughter from the future, right? I mean it must be, she was way too excited about being at the wedding of a CSI and a reporter, but they just, but they just, they just moved on and she vanished and they never came back to it but I'm right, aren't I? I must be right. Just tell me I'm right. Explain that. Explain yourselves, Flash writers not fired for sexual harassment.
*Dude has worn a lot of hats in six seasons.
To Sum Up
The one catch about Crisis on Earth-X is that for anyone watching, say, only The Flash, you're going to be a little lost. Unlike Flash Vs. Arrow/Brave and the Bold, Crisis on Earth-X doesn't work as individual episodes. And unlike Invasion!, each show doesn't maintain its own feel. That is, the Arrow chapter doesn't feel more Arrow-ish. In fact, they cut the usual title cards and replace them with a unified Crisis on Earth-X title sequence combining images and themes from all four shows. And to those upset that they can't just watch Supergirl this week because it's full of other characters and plotlines from other shows, I say…
Nuts to you.
Because this was awesome and the only way to do it is to blend all four shows into one four-hour event, and I'm sorry that makes your Netflix binging harder, but watch all four, you numpty.
Once again narrowing down to Oliver and Barry in the end remains charming, but unlike following Invasion's celebration with Oliver and Barry having a quiet drink, we needed something a little more celebratory to shake off the preceding, well, funeral. [spoiler title='Gonna get into spoilers.' style='default' collapse_link='true']Some people complain that when Barry and Iris have their sudden, improvised, "finish what we started" wedding ceremony in front of no one but Oliver, Felicity, and Diggle, Felicity shoehorned herself and Oliver into it, making it a double ceremony without asking. Well, frankly, it's not like she did this in the church. Barry ran to Star City to get Felicity and Oliver's best friend just so they could do a three minute exchange of vows. It's not that big a deal, and now Arrow doesn't have to spend seven episodes on Oliver and Felicity's wedding. It's done. No mess, no drama, no derailing season six with Olicity wedding stuff.[/spoiler]
In the end, Crisis on Earth-X was amazing in the ways Justice League was just okay, and is a pinnacle example of why the Arrowverse hosts the best superhero shows on TV.
Watch and learn, Defenders.
And seriously. Was that Barry and Iris' daughter? Was it!?