DA NA NA-NA NA
New episode!
DA NA NA-NA NA
Telling you stuff about it!
DA NA NA-NA NA
First header!
Jeff Stuff
The arcs in season one mostly came about in the same way: Keith would write something (Phil and George, Becky and Ted), I would think "That's neat," and throw in additional references to it, leading to the finale where everything blows up.
Jeff, on the other hand, went a little differently.
This week, we meet Jeff's on-again, off-again sex buddy Claire. Through flashbacks, primarily. And through Phil's description. At the risk of joining spoiler culture (a call ahead reference to a blog I haven't written yet), this is not the last we're seeing of Claire. But the point is, the first Claire episode I wrote is yet to come.
I'll tell the story of that episode soon enough. The relevance here is that it created a writing challenge for me. I wrote the payoff to Jeff's arc for the year, then had to find a way to build the set-up into the rest of the season. The major part of which happens this week, as the name "Claire" is said for the first time and Victoria Souter makes her debut.
So when writing this episode, I was both following up on moments Keith and I had written from Night Moves and Favour For a Friend, while setting up things I'd written in episodes yet to come. Well, in one episode. I hadn't written the finale yet.
More to come on Claire as it develops.
The Brain Trust Screws Up a Little
This episode has what might very well be my favourite shot of the whole season. This one, right here.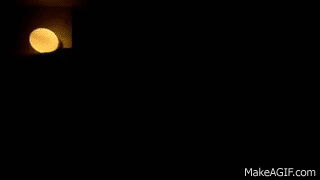 Like it? We really, really hope you do. Because along with "renting the space for the writers room," it is one of the two biggest expenses for the whole damn season.
And not even for a good reason, like permits or fancy cameras or buying a proper boom mic instead of MacGyvering something together for me to hold while Ian and I ran a lap around Aaron. No, it was possibly our largest expense because we were a little dumb about getting the shot.
That's the roof of our friend Ben's building. Hence Ben being found in the "special thanks" portion of the end credits.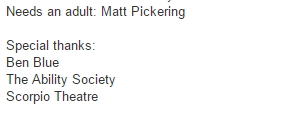 Everyone in this shoot had been on that roof multiple times. We used to watch fireworks from that roof. It never occurred to anyone, even Ben (who had let us shoot in his home despite not being present), that we weren't technically supposed to be up there, given the lack of railings and whatnot.
We did a few takes, from a few angles, and once we were convinced we'd gotten the shot visually, gathered around to test whether the sound had recorded properly. A not-exactly-top-of-the-line microphone on a slightly windy roof, there could have been issues.
Let's call that "Things we could have been smarter about #1."
While we were packing up the equipment, someone emerged from the staircase, along with either a superintendent or a member of the condo board. Turns out that Keith yelling "action" and Aaron kicking the door open over and over drew a level of attention that fifteen intoxicated people watching fireworks never did. Whoever this basically-pyjama-clad authority figure was, she was super curious who we were and what we were doing up there. Not friendly curious, either. We tried to explain that we had a friend in the building, and he let us on the roof. Ian, ever helpful, even told her which unit.
"Things we could have been smarter about #2."
I mean, she wasn't a cop, she couldn't legally detain us. We could have just left. Darted down the stairs for a few floors then doubled back to Ben's place. All these things we thought of after Ian had sold out our host.
Turns out knowing a resident was insufficient, as for insurance reasons, he wasn't allowed up there either. As a result, they changed the locks on the rooftop door. And sent Ben the bill. Which we paid, as we're not sociopaths, and are capable of recognizing when we're at fault.
If we'd done the sound check inside, or if we'd been even a little clever dealing with Angry Building Lady, maybe this could have been avoided.
The shot's pretty as hell, though. Just pretty as hell.
Trash the set
The writers' room has one episode left to air, but this is the episode where we wrapped it. Which obviously called for a celebratory photo.
(I'm wearing a jacket because I'd been rehearsing Frost/Nixon next door while they'd been shooting)
There is a very simple reason that this episode included our final shot in the writers room. Bet you can guess what it is.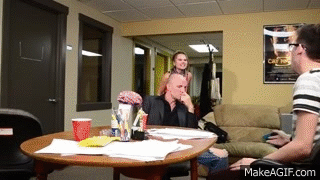 We deliberately scheduled the table flip to be the very last thing in this room. Because we suspected that when Jeff flipped the table, we were going to break the shit out of it. So before we let Aaron flip it we made sure that we weren't going to need it again, save as a possible breakaway set piece in Cry Havoc 3 (that poster with Jeff's head on it). It meant shooting that scene in two goes on two different days, but we were right. That table be broken.
Phil and Zoe
For Phil and Zoe's relationship, we borrowed a trick from Dan Harmon, creator of Community. On that show, he decided he wanted to try something not normally seen on TV with Jeff and Britta: they'd bang once, to resolve some tension, but wouldn't become boyfriend/girlfriend. They'd just continue having sex without romance, and that would be fine. But the only way that he could sell that on an American sitcom was to keep it a secret (save for some subtle hints along the way), then reveal that it had been happening the whole time.
So it went with Phil and Zoe. They have their moment back in Origin Stories, a moment that couldn't help but be ridiculously cute as Ryan and Anna are, in the words of the age, "totes adorbs," but then next episode George shows up and we forget all about it… until Becky starts to suspect in Favour For a Friend. The reason for this is exceptionally simple.
I will not do "will they/won't they." Ever.
Classic 90s sitcom Newsradio had my attention when they cast my favourite Kid in the Hall, Dave Foley, in the lead role. They had my respect when they skipped over "will they/won't they" and had Dave and his rival Lisa hook up in episode two.
Because will they/won't they is narrative death. Get two characters into a will they/won't they situation, and you're stuck with three equally doomed outcomes: 1) the characters get together but become boring, since the thrill was in the chase (Ross and Rachel from Friends, Sam and Diane from Cheers); 2) your audience gets so frustrated waiting for the characters to get together that they tune out (what actually happened to Moonlighting, no matter what you've read); 3) it turns out nobody gives a fuck if they get together, and all the teasing is barely more than dead air (Jeff and Britta).
Will they/won't they is an invention of narrative devices like comics and four-camera sitcoms, which present at best the illusion of change since they thrive on stability and predictability. When your characters' relationship is based around almost but never quite getting together, because either hooking up or losing interest in each other damages the status quo, there's nowhere for it to go. It will go stagnant, because that is the only option. To paraphrase the Master from Doctor Who… that relationship was born out of death. All it can do is die.
So I will not write one. I hope to launch other series in the future, in addition to more seasons of Writers Circle… I hope to be telling stories 'til eternity claims me… but I will not succumb to will they/won't they. I hate it and it's awful.
So, yeah. Zoe and Phil banged. Wasn't a big deal. They might do so again, and it still won't be a big deal. Relationships have so many more shapes and faces to pursue than "These two are perfect for each other but just won't see it (until the finale)!" That includes casual sex between friends, exes who get along despite ugly breakups, the bizarre debauchery of  Jeff and Claire, and… well we won't get into what's in store for Becky. Because that's just more fun for everyone.
Random fun facts
I meant to write a scene for Jeff and Tina into this episode, because more Tina is always welcome (because we like the character, not because Kirstie's a delight to have on set or anything), but the page count told me that I was running out of time and had to get to the punchline. Which, for the record, was Ian's idea. He's quite proud of that. As it turns out, I may have been wrong, because this one's relatively short, but it is right in the sweet spot we'd been aiming for when we set out on this venture, so I stand by the choice overall.
Jeff's therapist tells him not to do a Tree of Life thing because Tree of Life is terrible and shouldn't even be considered a "film." You probably knew that, but it's been a while since I mentioned it.
I have started to type a fun fact about this episode no less than three times before realizing, each time, that the scene I'm thinking of is next week. Probably a sign that I'm done.
Next week… an interlude in the growing tensions, as Jeff drags Phil into what he's described as a ghost problem.