So now that Iron Fist is over (and I promise to keep further complaints about Iron Fist to a minimum until June) there's no doubt one question nerd-show fans have about the year's big crossover…
How, exactly, is the Greg Berlanti Mask-Based Action Fun Factory (aka the DCW-verse) going to follow up "Invasion!" next season?
No, we're not talking about The Defenders. Don't get me wrong, when that launches in August I'll be checking it out like everyone else, but Iron Fist deflated my enthusiasm a little. And frankly, the first teaser, in which the four leads are standing in an elevator looking about as far from a super-team as it's possible to get, isn't helping. Not even Daredevil has anything like a costume, just a suit and tie with a sweatshirt or something tied around his face. So there's really only two things I want from the Defenders: two swatches of dialogue I'm not too hopeful I'll get.
Number One:
Matt: "Can I please get my suit."
Luke: "You look like a damn fool in that getup."
Matt: "Right, because wandering around telling everyone your real names is working out great for the rest of you."
Danny: "I'm Danny Rand! From the news!"
Matt: "Yeah, like that."
Jessica: "We know, Danny. We know."
Matt: "Say what you want about the mask, but my enemies never just show up at my office."
Number Two:
Matt: "Damn it, Claire, if you were up against The Hand, how could you not call me?"
Luke: "She probably thought you were busy looking into crime in Harlem. No, wait, that can't be it."
Danny: "I like turtles!"
(Look, I said I'd keep it to a minimum. This is the minimum.)
So instead of trying to get psyched about this…
…I want to talk about how Berlanti and company could follow this.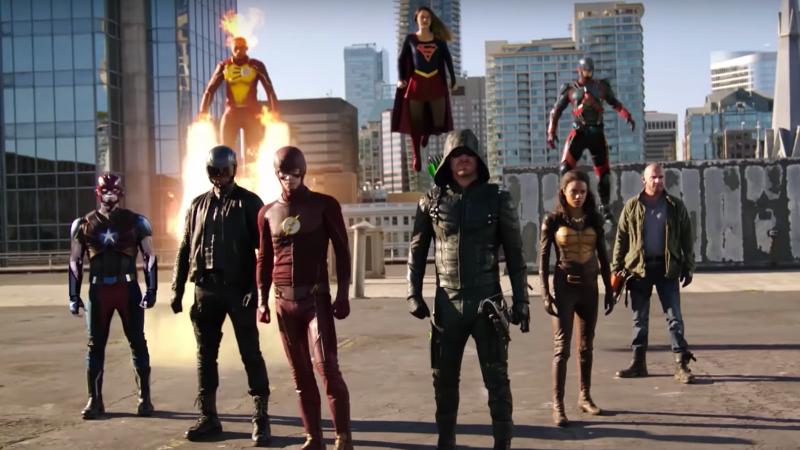 The annual Flash/Arrow crossovers have been a tradition since Flash's first season. They started small, with the relatively self-contained "Flash Vs Arrow" (in which Team Arrow visits Central City and ends up helping against the rage-inducing Prism) and "The Brave and the Bold" (in which Team Flash returns the favour against Captain Boomerang); they escalated to a world-threatening two parter in "Legends of Yesterday" and "Legends of Today," which finished the table-setting for the upcoming spin-off Legends of Tomorrow by introducing Hawkgirl, Hawkman, and their vendetta with Vandal Savage; this year, it took the combined heroes of all four DCW shows (although Supergirl really just guest starred, her show did its own thing that week) to save the world from sinister aliens the Dominators.
Eleven heroes from four shows plus two supporting casts against a global alien invasion. How do you top that? I'm sure somewhere in the writers' rooms there are people desperately trying not to think about that just yet, but it's coming, and they say this year it'll be a proper four-show affair. Meaning that hopefully Supergirl's Alex Danvers, Winn, and J'onn J'onzz will get to play as well.
As it happens, I have some suggestions.
(Yes, I know none of the writers will read this for legal reasons. And other reasons. Still, though.)
(Look, you might not care, but sometimes we rant about things we enjoy to fight off a rapid-onset emotional spiral that makes it hard to even just watch Netflix whee life is a roller coaster.)
Things We Can Rule Out
Sure as eggs is eggs and The Defenders won't say the word "Inhumans," there are a few big DC stories that we can probably assume are off the table, due to budget issues and corporate policy holding some things back for the film branch. Examples…
Darkseid. Ain't nobody at the CW going to be facing Darkseid unless Justice League really tanks at the box office. Like, tanks so bad Warner rethinks their commitment to superhero movies. As long as there's a Justice League sequel in the works, that's where Darkseid turns up next. And honestly, given how Smallville did Darkseid, I'm kind of okay with that.
Justice League Vs. Suicide Squad. It's the first big event of the current "Rebirth" era, and it's working out okay, and lord knows I've missed its main villain, Max Lord, since he vanished from post-CBS budget Supergirl. But Arrow hasn't been allowed to use the Suicide Squad since season three. No, if they adapt this, they'd want to do it with Affleck-Batman, Will Smith-Deadshot, and Harley Quinn.
Anything Batman related. It's actually Fox blocking this. They have the TV rights to pretty much everything Batman, and not even cancelling Gotham is likely to get them to loosen their grip.
Identity Crisis. An unknown enemy stalking the heroes' loved ones would have no impact in the DCW. Barry Allen and Oliver Queen are way too careless with their identities, and the Legends don't even use their codenames most of the time. Their loved ones get threatened all the damned time.
Crisis On Infinite Earths. Even if the CW could remotely afford filming an epic battle against the Anti-Monitor for the fate of all of existence, according to Harrison Wells' future newspaper, it won't happen until April of 2024.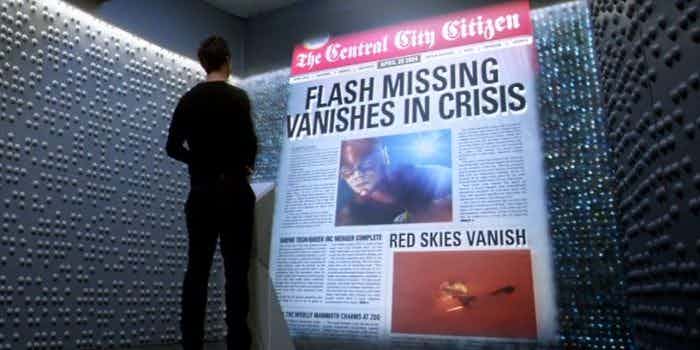 So, what does that leave us?
So much.
Let's begin.
1. The Collector of Worlds
The most criminally underused villain in DC's menagerie is Brainiac. He's Superman's number two villain, yet he has not even been hinted at in any of the seven movies Superman's starred in so far. Sure, James Marsters played a version of Brainiac on Smallville (the "Brain Interactive Construct," eventually called "Brainiac" for short), but is there anything Smallville did that couldn't be done better elsewhere? Anything at all?
Supergirl already opened this door by having its season one villain, Indigo, reveal herself as Brainiac 8. (Classic Supergirl move: can't get Lex, bring in Lena. Can't use the main Brainiac, bring in Brainiac 8.) So they'd just need to nudge the door a little further.
The pitch: A mysterious skull-shaped ship appears in the skies of Earth-38 (aka Earth Supergirl), which possesses similar technology and abilities as Indigo. Reactivating part of Indigo, the DEO learns that this is Brainiac Prime, aka The Collector of Worlds. While Kara investigates the ship, National City is sealed under a dome and vanishes. Brainiac has shrunk it and sealed it in a bottle. Alex manages to get Winn out with Kara's dimensional extrapolater before the dome is fully active. If they're going to find a way to get National City out of the bottle, they'll need backup and an expert in transdimensional barriers and breaches. And all of that's in Central City, Earth-1.
Supergirl gathers the others, and after the prerequisite "Brainiac drones follow Supergirl, big fight" sequence, they split into two teams. With Vibe-based portal help from Cisco, Green Arrow leads a covert squad (say… Diggle, White Canary, Vixen, Heat Wave, any of his new team who survives season four) to meet up with Alex, James, and J'onn inside the bottle to defend the city, while the muscle (Supergirl, Flash, Steel, Firestorm) fly the Waverider to Brainiac's ship so that Team Science (Felicity, Cisco, Winn, Ray Palmer/Atom, Martin Stein, Gideon the supercomputer) can try to crack his technology.
I assume Harrison Wells and the Wests will only be in the Flash episode. Again. But you could get Superman in here. Frankly, you even should. Strand him in the bottle with Alex for preference, and have his powers dwindle the longer he's in there. Ain't none of these his show, he doesn't get to show up Supergirl.
(I haven't quite stretched that out to four episodes, but do I have to do everything? Because I will. I will do that. Call me.)
The perks: It's certainly a threat that one-ups the Dominators. And making it a Superman villain makes it easier to start things off on Supergirl, which is the first to air and will need to be the start of the story to avoid another "four night crossover in name only" situation. And splitting the team gives everyone a role to play. It's a classic JLA/JSA story trick: kick things off with the whole team, then split them into groups before bringing everyone back together. It lets you play with different combinations, like Green Arrow coaching Superman on fighting without his powers, or White Canary and Alex Danvers, who I would pay real money to see kick ass together.
Why they might not do it: Brainiac doesn't have to be more expensive than the dominators, and Supergirl needs alien ship sets all the time, so I doubt it's a cost thing. No, if anything's blocking them from doing this, I'd point to WB brass. Matthew Vaughn is being courted to helm a proper Man of Steel sequel, and they might be holding Brainiac in reserve for that.
The dream casting: Role like Brainiac, you want the casting to cause some excitement. Either a big geek-friendly name like your Bruce Campbells or Scott Bakulas, or a Legacy Casting: someone from a past, related superhero show or movie. Like former Flash John Wesley Shipp as Barry Allen's father, or Supergirl's foster parents being Helen Slater (1984's Supergirl movie) and Dean Cain (of Lois and Clark: The New Adventures of Superman). In this case? Michael Rosenbaum. His seven years as Smallville's Lex Luthor suggest he's got the gravitas, and he's relatively likely to be available and affordable.
2. Forever Evil
The biggest event of the New 52 (that period of DC comics in between the Flashpoint reboot and Rebirth rolling back said reboot) was Forever Evil, in which Earth was taken over by Earth-3's evil alternate Justice League, the Crime Syndicate of America: Ultraman, Superwoman, Owlman, Power Ring, Johnny Quick, Atomica, and Deathstorm. Having decimated three Justice Leagues at the end of the crossover "Trinity War" (all of that makes sense, no time to explain, stay with me), the Crime Syndicate is virtually unopposed, and sets to work uniting the villains under them. But a few holdouts refuse to join. With Earth's Greatest Heroes out of commission, it's up to Earth's Mightiest Villains to save the day.
All this one really needs to happen is the existence of the Multiverse and an array of villains interesting enough to lead the story. The DCW-verse has both of those things. Also, since by and large the Crime Syndicate have alternate identities from the Justice League, there isn't a good reason why the film branch (or Fox) should get uppity about using them.
The Pitch: The DEO finds an unusual object, which is giving off similar signals to Kara's dimensional extrapolater. Kara, Winn, and Alex head to Earth-1 to seek STAR Labs' input. As long as Kara's in town, one of Team Flash (Barry, Cisco, or whatever Harrison Wells is on the team that year) shoots out an invite to Oliver and the Waverider crew for an Invasion reunion party. During the party, the object activates a bridge to Earth-3, allowing the Crime Syndicate to break through. Similar to the comic, Deathstorm (who was created when Earth-3 Martin Stein used the Firestorm Matrix to merge with the corpse of his intern, Ronnie Raymond) traps the majority of the heroes inside Firestorm, leaving only a handful: Green Arrow, Alex, Winn, Heat Wave, Joe West, Wells, and Felicity. (I don't really foresee a huge role for Felicity but I know the writers, it's gonna happen.)
Supergirl and Flash find each other within the personalized prisons that Firestorm has become, and begin trying to unite the others and find an escape. On the outside, the few survivors find themselves massively outgunned and in need of backup. With no heroes to turn to*, it's Heat Wave who sees a solution nobody else thought of… call in the bad guys. The ones the Syndicate doesn't manage to recruit.
Joe West and Quentin Lance try to rally the Star and Central police forces against the criminal army the Syndicate begins to form. Alex and Winn make a desperation run to Earth-38 (followed by Ultraman, who goes a few rounds with Martian Manhunter until sunlight turns out to be his weakness and he flees back)… Superman is off-planet, J'onn is injured fighting Ultraman, so they try Mick's idea, and wake up Bizarro. Heat Wave and a reluctant Green Arrow form a villain alliance: Captain Cold (I know he's dead bring him back just make it happen), Malcolm Merlyn, Bronze Tiger, Killer Frost, Trickster, and as long as I'm fantasizing here, Deathstroke. And when things look bleakest… out comes Gorilla Grodd to even the odds.
I'm sorry about the rhyme. That was unintentional.
Team Villain takes on the Syndicate, and when the heroes escape Firestorm, they clean up the Syndicate's army of whatever metas-of-the-week the producers could round up.
The perks: Given the sheer volume of villains cranked out by the four shows, some of them were bound to be great. Some of them, sure, are utterly forgettable, but enough aren't that it would be fun to see them all brought together. Legends of Tomorrow's Legion of Doom taught us that, and this time we'd get to root for them.
And man, could Wentworth Miller sell the shit out of how Captain Cold took out Johnny Quick (not pictured: his cold gun is voice activated).
Why they might not do it: …Now that I look at it that is a lot of guest stars. A daunting amount of guest stars. Even if John Barrowman and Wentworth Miller renew their contracts to appear on all four shows.
The dream casting: Yeah… this one wouldn't be cheap. So they might not be able to throw a lot of money at casting the Crime Syndicate. But as long as I'm dreaming the impossible dream here… Tyler Hoechlin is already Superman on Supergirl, let him be Ultraman; Smallville's Lois Lane, Erica Durance, as Superwoman; see if you can pry Mark Sheppard off Supernatural for a week to be Owlman; I don't have strong opinions about Johnny Quick, Atomica, or Power Ring, so save money on them; and for Deathstorm, either have Robbie Amell reprise Ronnie Raymond, or make him a stunt man with Victor Garber/Martin Stein's voice. Ooh, the second one. That. Do that.
*Except Vixen, Hawkgirl, and Hawkman, but that won't happen. Maybe there'll be a reference to those three fighting and losing against Johnny Quick and Atomica. Sure, that.
3. The Darkness Within
If guest stars are a problem, why not go with a menace that lets you just use who you have handy?
One of the great tragedies of Constantine's too-soon cancellation is that they appeared to be getting the pieces in play for a grudge match between DC's two spirits of vengeance: the often-brutal but usually noble Spectre, embodiment of God's wrath, and the villainous Eclipso, a former god of vengeance who was imprisoned in a black diamond for going too far.
It's that second one I want to call attention to here. Back in the early 90s, DC reinvented Eclipso from a lame 60s villain (who only had powers during a solar eclipse) to a dark god capable of possessing anyone who felt anger while touching one of his black gems. Or sometimes manifest himself as the embodiment of their rage. It depends on– not important, not important, started heading down a rabbit hole there.
The pitch: The DEO finds a black gem, and most of the DEO ends up possessed. Kara makes a deal with Eclipso: if he releases her friends, Kara will take their place. Stupid deal, stupid, stupid deal, but it worked on Superman in the comics. As a last ditch defense, as the possession takes hold, Winn sends her to Earth-1, in the hopes that Barry and Oliver can find a way to neutralize her (Guess Superman's off-planet again, why not). Problem is… Earth-1 has an Eclipso too, and soon they're both loose, and possessing heroes and villains of Star City, Central City, and the Waverider left and right.
Who can help them bring a magical vengeance god to heel? Who else?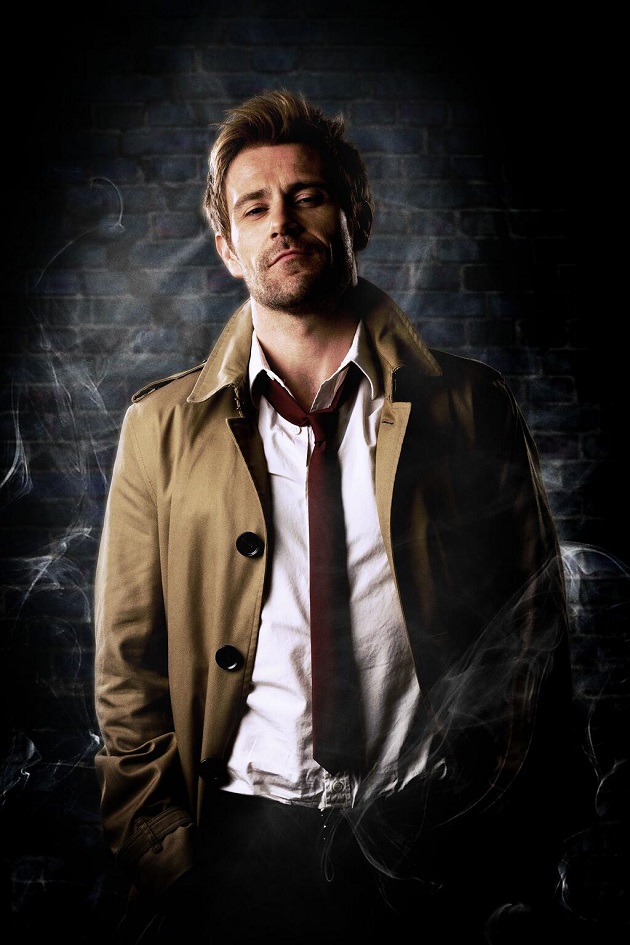 John Constantine to the rescue.
The perks: In addition to fixing the whole "it's been too long since Constantine has been on one of these shows" problem, unleashing Eclipso saves money on guest stars by having hero fight hero, and it also gives the writers a fun way to progress story lines. Eclipso feeds on his victims' rage, so this crossover would let every little festering grudge and problem anyone has with anyone else burst out in violent glory. Even after Eclipso is defeated, the underlying problems that he lights a match to will provide story fodder for either the fall finales or the back halves of the season.
Why they might not do it: …Well, would it really take four episodes to tell this one? It could, but you'd have to put some effort into it not getting stale.
Dream casting: Assuming Eclipso manages to manifest at some point, this here is a job for James Marsters, master of the deliciously fun-to-watch charming evil.
Closing speed round
The heroes of the four shows get trapped in a grudge match between extradimensional imps Mxyzptlk and Music Meister. Sounds stupid saying it out loud but hey, it could be fun, and maybe introduce Jakeem Thunder.
Shenanigans involving the Legion of Superheroes, who have been hinted at on both Flash and Supergirl, and are from the future, which brings in the Legends.
An adaptation of Armageddon 2001 (written back in 1991, when 2001 still felt like the far future), in which a time traveler named Waverider (not a coincidence) came back to 1991 to read the futures of the DC heroes in order to learn which one would become the villainous Monarch, turn on their friends, and conquer the world. It was obviously Captain Atom until the last second when it suddenly wasn't.
What will they actually do? I could not begin to guess. I don't think they know yet. Like anyone else, they probably want to put this season to bed before thinking about the next one. But they obviously have some love for DC lore, so here's hoping it's close to one of these.