"Wait," you say. "You did this already. I vaguely pay attention to what you write, and you definitely covered this."
Not so, Hypothetical Strawman. Can I call you H-Straw, by the way? I assume I can, like I assume everything you'd theoretically say.
Anyway, H-Straw, that was obscure characters I thought the various TV properties could use. And frankly, obscure characters are having their heyday. Wild Dog, Ragman, Prometheus, Citizen Steel, the third Ghost Rider, Misty Knight, and Mon-El all have or had prominent roles on comic TV shows this season. Black Lightning is close to getting his own show. The best comic book TV series this season was about an X-Man only hard core fans are familiar with. Powerless has pulled out Global Guardians member the Olympian and Justice League International mainstays Green Fury (later "Fire," but that only made sense because she was paired with "Ice," formerly Ice Maiden) and Crimson Fox. Well, sort of Crimson Fox, she actually wasn't really similar to– I'm drifting.
And bigger than any of that, the most anticipated superhero movie of 2017 stars Rocket Raccoon and Groot, two characters who were greeted five years back not with "At last, those guys," but "Is Marvel just screwing with us now?"
Today we're looking at major characters who are bizarrely absent from major live-action adaptations in the bizarre hope that doing so will somehow conjure them into a TV show or movie.
Look, sometimes it's better to light a candle than curse the darkness.
1. Zatanna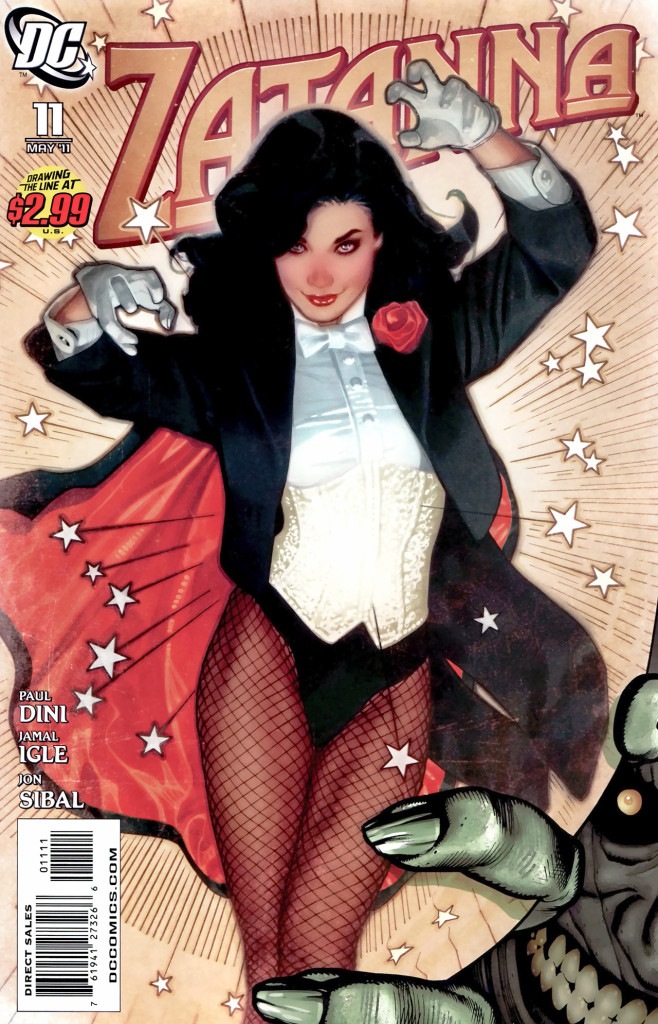 I've brought this up in the past, but since it still hasn't happened, it bears repeating.
Who's that?
Is Wonder Woman the most powerful woman in the DC Universe? Not quite. Sure she's up there, given she makes Batman nervous, can go 12 rounds with Superman, and was the God of War for a spell (an excellent story that is tragically being retconned out of canon, but so is goes), but you know what Wonder Woman can't do? Cripple the armies of Darkseid just by saying "Parademons turn into corgis" backwards.
Daughter of famed magician, Golden Age magical hero, and sometimes mentor to Batman Giovanni Zatara, Zatanna Zatara came onto the scene in the late 60s, becoming a member of the Justice League during the hallowed "Satellite Era," known as the group's Silver Age pinnacle.
No, that was not word salad, it makes perfect sense. Welcome to comic books.
Zatanna inherited her father's powers: she can make almost anything happen just by saying it backwards. She's been an off-again/on-again lover to John Constantine, had the lady-balls to make a slightly tipsy pass at Batman, but more than that, she's become a natural leader, as the head of the currently defunct Justice League Dark. She is, without question, the most powerful magic user in DC canon. Well, the most powerful human magic user. Comparing her to the Spectre, the embodiment of divine wrath, or the unquantified power of the ancient and ageless Phantom Stranger is probably unfair.
And her only live-action adaptation so far is two underwhelming episodes of Smallville*, and that is hardly good enough.
*Not… I'm not saying they were underwhelming for episodes of Smallville, but "underwhelming" was kid of Smallville's default state. At its very best, it whelmed within reasonable expectation.
Where should she be?
They are, possibly, slightly ahead of me on this one. Warner Brothers has been kicking around an adaptation of Justice League Dark for a while, sometimes called "Dark Universe." There's an animated Justice League Dark movie out there which might help give the concept legs, or might make it redundant. Sure, my enthusiasm for the project diminished a little when Guillermo del Toro (who first pitched it) left the project, but it's still kicking around DC films. It's been rumoured to be one of several scripts DC is trying to get into position to replace The Flash on their 2018 docket. (Which, man, if they want to fill that gap, they are running out of time.)
But it's not enough to get her into that movie. That's key, but more important than having her in the movie? She should be the lead. They might be trying to centre it on John Constantine, but that's a mistake, and not only because it might keep Matt Ryan from playing Constantine in the DCW-verse. It risks Zatanna, DC's most powerful sorceress, becoming yet another victim of Trinity Syndrome.
Using Guardians of the Galaxy as our model, Zatanna should not be the Gamorra to Constantine's Star Lord. Zatanna should be the Star Lord, and Constantine the Rocket Raccoon. His character is far better suited to the wise-cracking misanthrope who is half-dragged into doing the right thing.
(Nightmare Nurse is the Gamorra, Swamp Thing is the Drax, Etrigan is the Yondu, and the House of Mystery is Groot, if you were wondering.)
Zatanna's been the lady in the fishnets for long enough. It's time for a Zatanna project that lets her be a star.
2. She-Hulk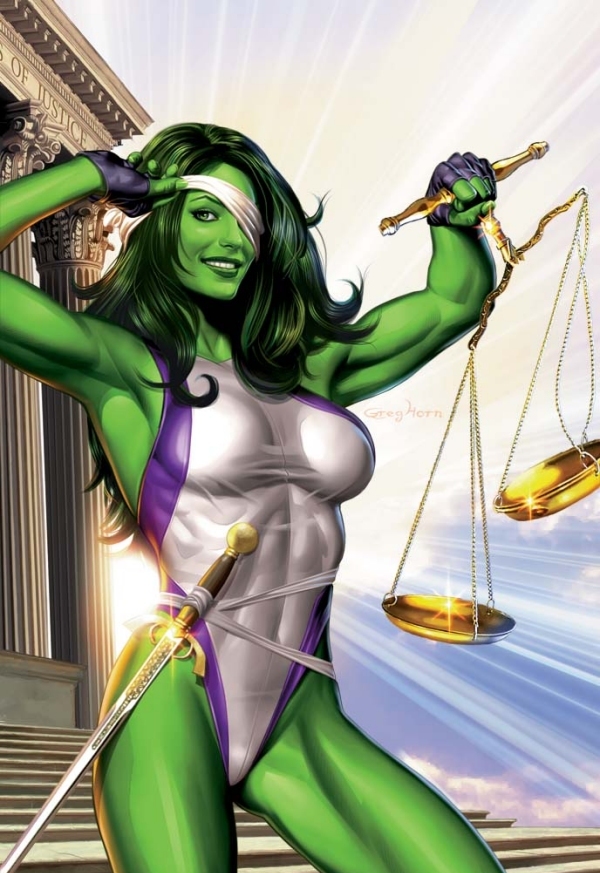 Who's that?
Jennifer Walters, cousin to Bruce Banner, needed a blood transfusion to save her life. When Bruce gave her some of his gamma-radiated blood, she ended up receiving a lesser version of his powers, becoming the sensational She-Hulk. While she may not be as strong as her cousin, she does retain her personality and intelligence, something Bruce only managed for a stretch in, I wanna say the 90s?
As such, while extra-tall and green, she still maintains a legal practice.
There was almost a She-Hulk movie back in the 80s, which Bridgette Nielson was supposedly starring it, but it never made it out of script development.
Where should she be?
A while back, there was a run of her comic in which a firm wanted to hire Jennifer Walters… but not She-Hulk. This was a surprising turn when I heard about it, because until then, I didn't even know Jennifer could change back and forth. I thought she was just She-Hulk 24/7. Turns out she was only in She-Hulk form all the time because she wanted to be. Jennifer likes being taller, stronger, powerful. And, sure, less plain.
This might make for a good TV series. There's a good story there, one that separates it from the other "female cousin of a better known male hero" show. A powerful woman being asked to keep her power in check by her (presumably) male-driven firm? Or, you know, something Patriarchy related.
Supergirl tackled feminist issues throughout the first season, though in a more scattershot fashion. Jessica Jones did a great job with rape survival and abusive relationships. But as it turns out there are more than two ways to discuss feminism. A She-Hulk series about fear of female power would be a new take on issues that seem all the more important after the first serious female US presidential candidate was defeated by an unqualified garbage monster.
Plus, this would play into what Joss Whedon discovered was missing from the Hulk movies prior to Avengers. The movies spent most of their runtime treating Banner becoming the Hulk as a tragedy, when we as an audience just want the thrill of watching him Hulk out and cut loose. For She-Hulk, those moments when she gets to transform are a release, and we'd be right there with her.
Perhaps ABC could find room for it after the inevitable end of Agents of SHIELD, or if Inhumans doesn't take off. I know it might seem like a decent fit for Netflix, especially if the lawyer aspects have as much to do with the superhero elements, but it would be more suited to a network, case-of-the-week structure than the Netflix "One story in 13 episodes" model. Also I worry that if Netflix did it, the show would end up being called "The Sensational She-Green-Guy."
3. Robins Who Aren't Dick Grayson
Who's that?
Perhaps the earliest* and most iconic of the Kid Sidekicks in comic book history, Robin has been the title of Batman's partner since his first appearance way back in 1940. Batman's had a Robin since the last time America wasn't doing enough to hold back the Nazis.
(*Some of the pulp stories, like Doc Samson and his contemporaries, might have beaten out Robin, I really don't know.)
There are five in total, not counting Carrie Kelley from The Dark Knight Returns, which I don't, because Frank Miller is racist, crazy, and crazily racist, and Batman V Superman gave him too many props as it is.
Dick Grayson is the original, the son Batman never had, the first to move out of his surrogate father's shadow. As Nightwing, he's been a hero and a leader in his own right, one so popular that DC head Dan Didio learned he literally couldn't kill him off if he wanted to.
Jason Todd came second… he was the angry one, picked up off the streets when Batman caught him stealing the Batmobile's wheels. He's also the one killed by the Joker, but a couple of decades later he came back, adopting the Joker's old name of Red Hood. He was a villain for a while, angry at Batman for not avenging him, but gradually worked his way back into the family. He's still the black sheep, the most violent, and the only Robin occasionally okay with killing.
Tim Drake is the first Robin by choice. Whereas Dick and Jason were orphans Batman took in and taught to be Robins, Tim figured out Batman's identity on his own, and deciding that Batman needed a Robin, broke into the Batcave and demanded the job. He's also the first of the Robins to have his own comic. Eventually known as Red Robin, he's become every bit the leader as Dick through Young Justice and the Teen Titans. He's probably the smartest, and if you asked any of the other Robins who their favourite was, they'd each say Tim.
Stephanie Brown, usually known as Spoiler but for a time a surprisingly good take on Batgirl, was Robin for a brief period when Tim gave up the job. It turned out Batman only gave her the gig in an attempt to lure Tim, her ex-boyfriend, back into the role. She ended up starting a massive gang war in an attempt to earn her way back– you know, the story only gets ugly from there. Really ugly. Moving on.
And last but least only in stature, Damien Wayne, created by comics legend Grant Morrison at the beginning of a many-year run on Batman. Dick Grayson was the son Bruce Wayne never had, but Damien was the son he didn't know he did have. Son of Bruce's lover/nemesis Talia al-Ghul and grandson of A-list Batman villain Ra's al-Ghul, Damien was dropped on his father's doorstep (well, the water entrance to the cave) at the age of ten. After spending time with his father, he turned his back on his upbringing with the League of Assassins and devoted himself to being the new Robin. He died at the hand's of his mother's soldiers at the end of Morrison's run, but if death couldn't keep down Jason or Stephanie (I told you that story got ugly. I TOLD you.) it certainly couldn't keep down Damien. He's definitely arrogant, doesn't always play well with others, but tries his best to be a Robin his father can be proud of. On the outside he begrudgingly tolerates his surrogate siblings, but there are subtle signs he's come to like at least two of them.
Of these five, the only live action adaptation we've seen is Dick Grayson, always as Robin, and the best of them is the one where he's played by Burt Ward. People are so eager to see Nightwing in something that there was a fan cry to have Nightwing on Arrow, a show that has never acknowledged the existence of Batman.
There is talk of a Nightwing solo movie, but like Man of Steel 2, Suicide Squad 2, Gotham City Sirens, Dark Universe, and basically any DC film project that isn't Wonder Woman, Justice League, or Aquaman, talk is all there is.
Where should they be?
As long as Fox has a lock on the TV rights to all things Batman, we're stuck with the movies. But Warner Bros will keep making Batman movies as long as their business model depends on blockbuster film franchises. So, if The Batman starts introducing Robins, you have room to spin them off into their own movies. Pad out the DCEU with Bat-family properties, just like they do in the comic branch. Sure, have a Nightwing movie, but instead of having Batman show up in a similar role to Tony Stark in Spider-man: Homecoming, have Tim swing by. Show the sibling relationship of the Robins. Also Batman, just, you know, less Batman.
BvS already established that Joker killed a Robin, so a live-action adaptation of Under the Red Hood (already an animated movie) could not only introduce Jason Todd's Red Hood, but also involve Nightwing, and if you fudge the story a little, Tim Drake as well. Then bring them back to the Batcave for Son of Batman (also already an animated movie) and finish the quartet.
Plus there's every chance that bringing in the younger Robins can help shake off the notion that the DCEU isn't fit for younger audiences. Of course it would help to, you know, be more suitable for younger audiences.
4. Doctor Doom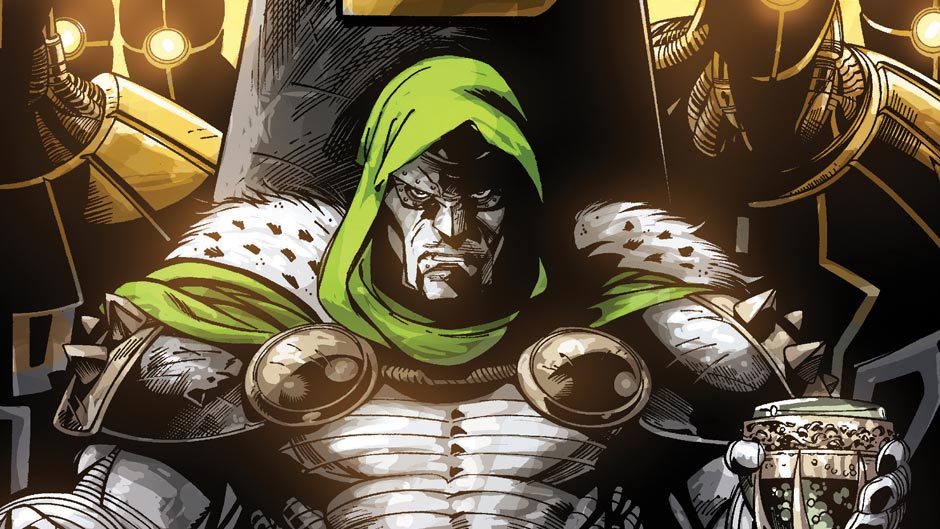 Yes I know that Doctor Doom has been in four movies so far. I also know that of the three that made it into theatres, they haven't come within a parsec of doing Marvel's Greatest Villain right.
But sadly, a key part of the Marvel Film Formula is "The villain is a one-dimensional representation of the hero's flaws," so even if Fox stopped making increasingly worse Fantastic Four movies every seven years out of what at this point I can only assume is spite, and gave Marvel back the film rights, Marvel Studios is unlikely to nail him either. Let's move on.
5. Sandman
Who's that?
Neil Gaiman's Sandman isn't a classic graphic novel for adult audiences, it's the classic graphic novel for adult audiences. Sandman was one of several books DC had in the late 80s where they decided "You know what… if we slapped "Mature readers only" on these things, told the writers they didn't have to be superhero comics anymore… then they could really do some cool stuff," and started the Vertigo imprint.
The basic premise… well, master author Neil Gaiman could never write a basic premise, but the nickel tour is that the series revolved around Morpheus, aka Dream, one of the Endless. The Endless were nigh-immortal beings who represented various forces driving life: Dream, Destiny, Destruction (who left the family), Desire, Despair, Delirium (formerly Delight, but then drugs happened), and inspiration to goths worldwide in more ways than one, Death.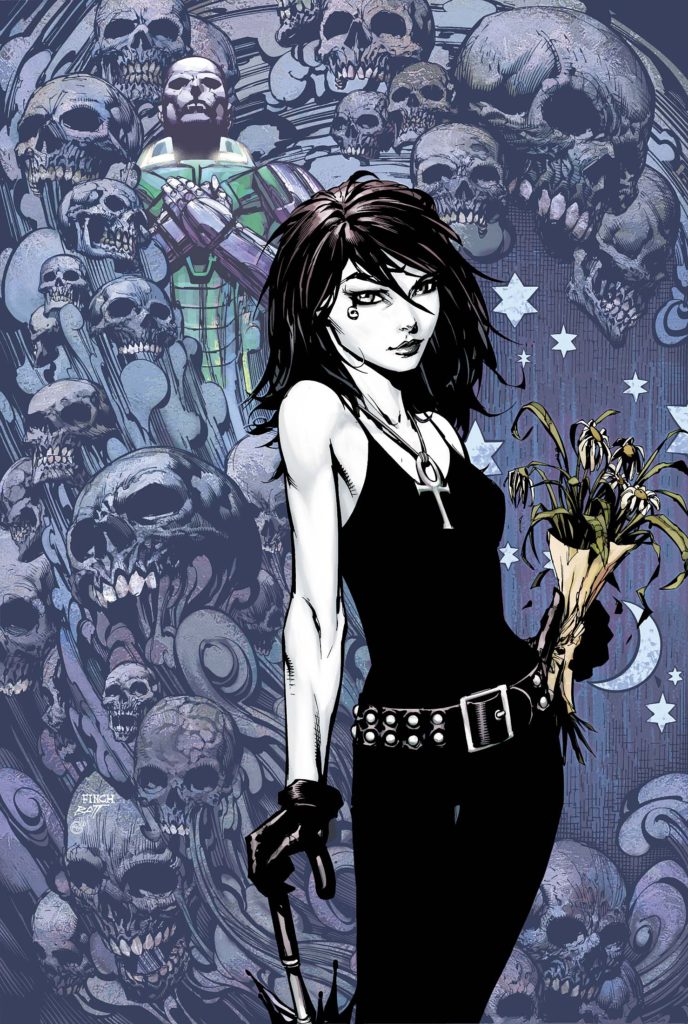 As his name suggests, Morpheus/Dream* rules over the Dreamlands, where we all go when we're asleep. And you do not want to cross him if you value your sanity. And then a bunch of fascinating stuff happens, and it's all amazing and you should just read it.
(*You're not gonna be able to call him Morpheus much. Thanks, Matrix movies.)
Where should he be?
People have been circling a Sandman movie for decades to no avail. Joseph Gordon-Levitt came closest, but has since left the project. So here's my hope. My desperate hope. Now that Sandman's successor as the flagship title of Vertigo, Preacher, is doing well on AMC, and Neil Gaiman's American Gods is apparently about to be the best show on TV, maybe, maybe someone will finally realize that you cannot do this story justice in two hours.
Hell, one two hour movie is barely enough time to establish why Dream and Lucifer don't care for each other, let alone cover the classic story… huh. Pro-tip. If you're going to write about Sandman, you're going to need to learn synonyms for "classic…" Um… iconic, vintage, time-honoured… Let alone the exemplary story in which Lucifer gets his revenge by closing up Hell and handing the key to Dream.
Why is that revenge? It takes time to explain that. This is my point. The story is complex and needs time to breathe. A movie would only be enough time for the Dead Boy Detectives introduced partway through.
No, I won't explain who the Dead Boy Detectives are, read Sandman damn you.
An epic fantasy covering multiple times and a nigh-endless supply of fascinating characters, Sandman could be the "new Game of Thrones" everyone's been looking for since the old one got an end date.
(The new Game of Thrones is Westworld, but I for one encourage competition.)
I mean… they don't have to have John Constantine show up, just because he's in the first arc. I mean they could. That's an option. And, you know, there's no strong reason not to ask Matt Ryan to reprise the role. Doesn't necessarily mean that this hypothetical HBO Sandman show would then be part of the DCW-verse.
That would just be a special little secret for me. Us. For us is what I meant.