Superheroes and comic books are big on both the big and small screens these days, but despite the Marvel empire being built on "Everything's connected" and DC not having sold all of its shiniest toys to Sony and Fox, there is still a weird Chinese wall between each company's film and television divisions. DC, as we know, maintains separate film and TV universes and, in most cases, doesn't allow overlap. Marvel claims to maintain one, consistent universe, spread across the Avengers-based films, Defenders-based Netflix shows, and redheaded stepchild Agents of SHIELD, but Brooklyn 99 and The New Girl cross over more often than any of those branches, limiting the characters the TV branches can use even beyond being banned from using the word "mutant."
They have, however, found some clever workarounds.
Agents of SHIELD isn't allowed to use anyone that's been in a movie, or is a street-level hero in New York, or that Marvel might want to pitch elsewhere. But they have been having one of their better seasons by basing it around a surprisingly effective portrayal of Robbie Reyes, the least popular, least successful, and objectively least cool* version of Ghost Rider. Meanwhile, across the aisle, Arrow's been having a similar resurgence of quality, and it's obscure characters all the way down over in Star City. Wild Dog, Mr. Terrific, and Ragman have joined the team, and there have been episodes not only featuring but named after 80s D-listers Vigilante and Human Target (sadly not Mark Valley's Human Target from the 2010 series getting a Constantine-style revival, but I'll take any Human Target I can get).
So I say, keep on keeping on with this trend. DC and Marvel each have hundreds of characters to draw on, so why let the big names being embargoed slow you down?
Assuming Marvel Netflix is limited to street-level crime fighters, that Agents of SHIELD can't touch anyone who could possibly have their own show or movie, and the DCW-verse has to stay away from Batman, Wonder Woman, Aquaman, Green Lantern, and Shazam (though they got Superman this year, so who knows), here's some characters they should be considering bringing to the small/streaming screen, and some casting thoughts, because welcome to my brain. Hey, I have to live in here.
*No, not because he's Latino, because he doesn't even have a motorcycle. You can't be the coolest Ghost Rider without a flaming-wheeled motorcycle.
For Supergirl: Mary Marvel
Who's that?
Maybe you're familiar with the original Captain Marvel, known for yelling "Shazam!" to get his powers. Ten year old Billy Batson was gifted powers by the wizard Shazam. By yelling his name, Billy became an adult with powers just shy of Superman's. Also without the vision or breath powers. Lately, they've stopped calling him "Captain Marvel" (having grown tired of competing with the many, many Marvel characters with that name) and just started calling him "Shazam" (given that most people call him "the Shazam guy" as it is).
Now, Shazam does have a movie in the works, and even though the only thing I know about it is that Dwayne "the Rock" Johnson is playing his nemesis Black Adam, they probably wouldn't let a different Billy Batson come to Star, Central, or National City. Which is a shame because every day that DC isn't casting one of the Stranger Things kids as Billy is an opportunity wasted.
But there is another.
Every iteration of Captain Marvel/Shazam begins with Billy, yes, but before long the power of Shazam is being shared by a team. And the first person on that extended list? His long-lost twin (or more recently foster) sister, Mary.
Of all the superhero shows, none have embraced bright, cheerful optimism like Supergirl. But no DC character has, historically, been as bright, innocent, or hopeful as the Marvels, being children given adult bodies with the powers of gods. So I can't help but think there's a fun opportunity to have Supergirl need to deal with someone whose unbreakable cheer (and strength) outshines even her own. And while Billy Batson's probably on lockdown, Supergirl the show has a history of ducking around embargoes by using less known siblings: no Lois Lane, but her sister Lucy; no Lex Luthor, but his sister Lena and mother Lillian are lurking around National City. Having the DEO need to make a road trip to Fawcett City and encountering Mary Marvel would fit right in.
Hell, given her name, you could even fit in a meta-commentary on how, thanks to Zack Snyder, there's a perception that DC is all grim and dark and broody while Marvel is bright and fun and colourful. Sure, you're not going to be able to launch a defense of the film branch easily, but still… Oh! Or have Winn or newly gay Alex get a bit of crush on Mary Marvel, only to find out that she's actually a neonate girl and man was that dream he/she had last night inappropriate in hindsight… Man, this could be such a good episode and they're probably not going to do it and why do I do this to myself…
Who to cast?
Millie Bobby Brown and Adrianne Palicki.
If you're going to do the Marvel Family, you've got to do it right. That means big, imposing, adult for the hero, and small child for the alter ego. Adrianne Palicki certainly has the imposing, ass-kicking credentials, although a complicated relationship with DC. She got the lead in a Wonder Woman pilot from David E. Kelley, who proved that he's much better at writing lawyers than Amazon warrior princesses and thus the infamously bad show wasn't picked up. She then entered the superhero world as Bobbi "Mockingbird" Morse on Agents of SHIELD. But since she was written off the show for a spinoff that, again, didn't get picked up, she might be willing to jump back to the DC side.
But you can't skimp on mild-mannered Mary Batson, either, and remember what I said about how perfect any of the Stranger Things kids would be as Billy? Millie Bobby Brown captured the internet's attention as Eleven for a reason. Mille and Adrianne both have good experience as badass, powerful women, and would make a fun duo as Mary Marvel's various halves.
Maybe if I yell "SHAZAM!" enough I'll turn into a staff writer on Supergirl and can make this happen…
For the Defenders (et al): Shang-Chi, Master of Kung Fu
Who's that?
It's kind of all there in the name. A master martial artist who rebelled against his evil father and decided to use his skills for good. He did a turn as an Avenger a roster shake-up or two ago, easily standing as an equal to Captain America, Thor, Spider-man and the others. Also, of all the superheroes based exclusively on "Super good at real-world martial arts" (Karate Kid, Judomaster, Richard Dragon, sort of but not quite Iron Fist), at least this guy's actually Asian.
See, the Marvel Netflix shows have a problem with Asian representation. A lot of shows do, a lot of western media does, but it's a little extra notable when every single Asian character in the Defenders franchise is attached to one of two doomsday ninja cults. Sure, yes, having the Asian guy be a martial artist, you're steering into stereotype. But their bar is currently set low enough that there aren't many directions to go but up here.
Also, he once used Pym particles to become giant and kung fu-fight a dragon.
More people show know about this guy. Oh, and did I happen to mention that his evil father was old-school pulp villain Fu Manchu? How much to I want to see Fu Manchu and Luke Cage go round and round? A lot.
Who to cast?
I would say Mark Dacascos, but Agents of SHIELD already used him as Discount Magneto and they do hate to double-dip… so let's say Remy Hii.
Remy Hii's familiar to Netflix as Marco Polo's Prince Jingim, Kublai Khan's son and heir. So not only is he familiar to the network, he's also used to action scenes and the weapons (other than fists and feet) Shang-Chi would be packing. And he wouldn't be fighting a foreign language (Steven Chow), being over 50 (Steven Chow again), or being someone I haven't heard of. I am not currently up-to-date on Chinese film stars, I'm sure I'm sorry, let's move on.
For The Flash: Firehawk
Who's this?
Lorraine Reilly was a senator's daughter who was fighting a crush on hero Firestorm when she was kidnapped by one of his nemeses, Henry Hewitt, later known as Tokamak, who attempted to imbue her with Firestorm's powers to use her as a weapon against both her father and Firestorm. He was largely successful, but Lorraine broke free of his control and became a hero in her own right. Although never to the same level as her male counterpart, because comics and sexism and all of that.
Flash already introduced Henry Hewitt in season two (specifically, and fittingly enough, in "The Fury of Firestorm"), already had him turn dark, named him Tokamak, and gave him a fixation on Firestorm's power set and a grudge against Team STAR Labs. Why not have him try to get some delayed payback by trying to make his own Firestorm? And before you ask "Why have two people with those powers," Strawman I'm making up, think how many speedsters are on that show right now. Flash, Kid Flash, Reverse Flash, Zoom, Jesse Quick, Savitar… Now consider how many people in Star City, good or evil, have decided that a bow and arrow is their weapon of choice. Actually, don't bother. The answer is eight. Eight people, not including League of Assassins flunkies, said "Eh, nuts to guns, I'm-a use a bow." Two Firestorms won't hurt anything.
So given that a) they already know how to do the effects, and b) Firestorm and the Flash go way back, that's why they introduced him on that show in the first place, and c) Firestorm is tied up protecting the timestream on Legends of Tomorrow, why not bring Firehawk to Central City? Give Flash someone to team up with who doesn't star on a different show or live in a different universe.
Who to cast?
You know who's killing it lately as a woman who has to break free of her maker's programming? Evan Rachel Wood.
Dolores is a "host" in Westworld permanently assigned to one of the uglier narrative loops. (Although the finale may suggest why.) As such, she's also one of the first to attempt to rise above it, and Evan Rachel Wood fully captured her transition from damsel to badass. As a bonus, depending on things go in tonight's season finale, she may have a steady gig on Westworld for a while, and cable series have different shooting schedules than network, so she'd in theory (and what more does this discussion require than "In theory" have availability for sweeps month Firehawking without danger of getting booked on whatever the next Chicago–based procedural soap drama is.
I mean she might choose to do movies like previous Firestorm Robbie Amell did, but hey, I can hope. Mostly. Sort of. I remember the basic mechanisms of how to– shut up.
For Agents of SHIELD: Abigail Brand, Agent of SWORD
Who's that?
In his run on Astonishing X-Men, Joss Whedon (who created Agents of SHIELD, which would be handy) introduced a subdivision of SHIELD: SWORD (Sentient World Observation and Response Department), who monitor extraterrestrial races and threats to protect the Earth from invasion. Abigail Brand, half alien herself, is its head.
Marvel and ABC recently announced plans for a new Inhumans TV series. This makes sense, since it was Isaac Perlmutter, head of Marvel Entertainment, who wanted to adapt the Inhumans, and not Kevin Feige, head of the now-separate Marvel Films. Despite the fact that Inhumans have been a major part of Agents of SHIELD for three seasons now (the focus might currently be on Ghost Rider, but the back half of the season is shaping up to again be Inhumans-centric), the new show has been said to be focused on the classic characters such as Black Bolt and Medusa, and will not be a spinoff of Agents of SHIELD. I see two ways this could play out.
First, this could be the first Marvel property to actually acknowledge, and even crossover with Agents of SHIELD. It's free of the TV/movie division drama, unlike the Avengers; it would be on the same network, unlike Marvel Netflix; it would (probably) be set in the present day, unlike Agent Carter. All the barriers that thus far exist to keep Agents of SHIELD in its own little lonely box would be, in theory, gone. And between Avengers, Defenders, the ratings spike that happens every time the CW shows crossover, and the absolute lack of a ratings bump that happens when Agents of SHIELD does a shoe-horned, one-way, desperate-plea-for-attention excuse for a movie tie-in episode, the network has to know that having Coulson and Daisy/Quake come face to face with Inhuman royalty is the way to go.
Second… they could not know that and not only continue to neglect SHIELD (which they might be considering cancelling once it hits a syndication-friendly 100 episodes), but demand they stop doing Inhuman stuff.
In the first case, SHIELD already established that the Kree, who created the Inhumans, were concerned that they were active again. SWORD would be the perfect way to bring Coulson and Black Bolt together to deal with impending Kree actions. In the second case, Agents of SHIELD would need a new playground, since they'd be kicked out of their current one. In which case, since SWORD and SHIELD have a patently obvious link… it is all there in their names… SWORD could be the new thing for their fifth (and if Marvel won't let a second ABC show acknowledge them, almost definitely last) season.
Who to cast?
Once upon a time, rumours circulated that Joss Whedon was looking to cast one of his frequent fliers, Felicia Day, in the role for the Avengers movie.
Obviously that didn't happen, but that doesn't make it a bad idea. Felicia Day has the exact geek appeal that Agents of SHIELD and the DCW-verse look for in casting choices. Also she's familiar with the showrunners from her work on their older Joss-backed projects, Dr. Horrible and Dollhouse. It would be fun to see her take on a more badassed role.
For The DCW-verse in general: Ambush Bug
Who's that?
Created by Keith Giffen, Ambush Bug started as a comic relief villain for Superman, only to decide he'd rather be a (largely incompetent) hero, and eventually became popular enough to star in a sequence of miniseries and specials over the next two decades, all from Keith Giffen and Robert Loren Fleming, the definitive Ambush Bug creative team. One of his signature traits became DC in-jokes and satire of DC itself (and some Marvel).
You know that whole "breaking the fourth wall, being aware he's a comic/movie character" thing Deadpool does that everyone loves? Ambush Bug was doing it nearly a decade earlier. Let me posit something to you… the DCW-verse is in its fifth year. Arrow just celebrated its 100th episode. We're nearing the point where a show can start to get away with the occasional self-referential humour episode. (Some might argue Arrow's 100th started this off with the opening speech-referencing exchange "My name is Oliver Queen—" "We know who you are." "Everyone knows who you are!") Supernatural's done a handful of those over the last few years, and they're all great.
Ambush Bug's one power is the ability to teleport anywhere, even between universes. So Ambush Bug could visit all four of the DCW-verse shows for a fun, comic relief, non-crossover crossover. Or just for random episodes. You know, I can picture the DCW-style "My name is Oliver Queen/Barry Allen" opening now…
"My name is Irwin Schwab. That's not the name I'm super famous for or anything, but—you know, I'm getting off track here. When a scientist of the planet Schwab sent his clothes from his supposedly doomed planet, hoping that his wardrobe would survive, only to have it intercepted by a giant radioactive space spider… I think? That's what I heard, but I didn't actually… I mean it sounds right… I found the bug-like suit, and gained the ability to teleport, ambushing people. So, Bug, Ambush, there's something there, I feel. I discovered a universe full of repeating tropes and gloomy heroes, and now have made it my mission to help these teen soap multiverse heroes be someone else… something else. No, just that first one."
"Ambush Bug! I am… Ambush Bug. Did I make that clear? Yes? Good."
Who to cast?
This looks like a job for Danny Pudi.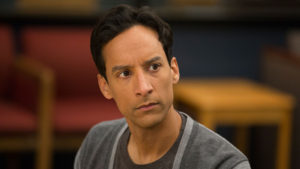 Ambush Bug is a little bit crazy and a lot of self-reference. And six seasons (and a movie? Not yet) of nailing quirks, pop culture, and meta-jokes on Community as Abed Nadir prove Danny Pudi's got the chops to make Ambush Bug a fun addition to the DCW-verse instead of an annoyance only I enjoy.
Will any of these shows do any of this? I don't know. Frankly I couldn't have predicted any of the characters Arrow pulled out this year (maybe Prometheus). But they'd all be fun to see.